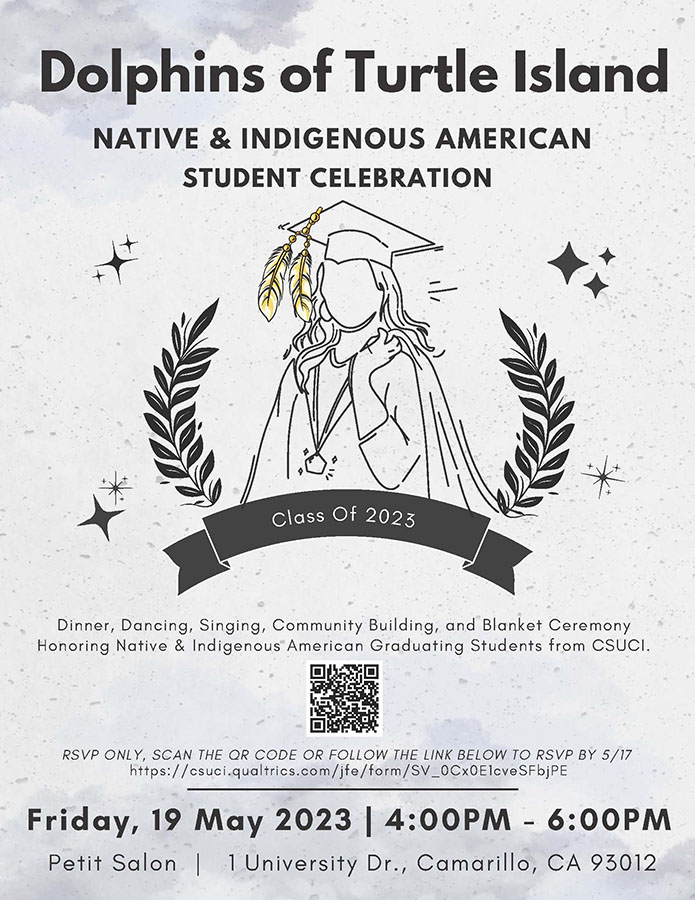 May 12, 2023 - The campus community is invited to join us for Dolphins of Turtle Island: CSUCI's historic affinity celebration of both current and graduating students that identify as Native American, Indigenous American, and/or an Indigenous Persons from around the world now residing on Turtle Island (North and South America).
This event will include dinner, dancing, singing, community building, and a blanket ceremony honoring Native & Indigenous American graduating students from CSUCI. Friends, family, and community members are encouraged to join in celebrating the extraordinary journey of these students and their amazing accomplishments, as well as campus staff, faculty, and local community.*
Please RSVP as soon as possible if you plan to attend.
For more information contact Jamie Ferns at jamie.ferns239@csuci.edu.
*You do not need to be a graduating student to attend, all students, staff, faculty, and community members are encouraged to attend.
The University encourages people with disabilities to participate in its programs, events and activities. If you anticipate needing any type of accommodation or have questions about the physical access provided, please contact the respective area below as soon as possible, but no later than seven business days prior to the event/activity:
CSUCI Students
Disability Accommodations & Support Services: accommodations@csuci.edu
CSUCI Employees
Christine Girardot: christine.girardot@csuci.edu
Members of the Public
Title IX & Inclusion: titleix@csuci.edu