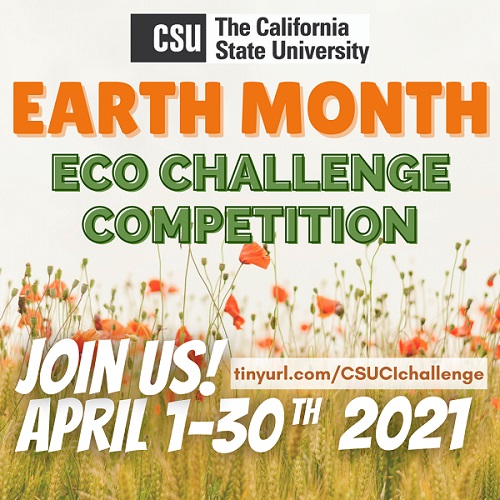 Apr. 1, 2021 - You're invited to join the CSU Earth Month EcoChallenge to see how 30 days of action can add up to a lifetime of positive change for your campus community and the planet!

Help CSUCI compete against the other CSU campuses for Clean River e-waste and pizza recycling bins, customized with our campus logo. The top 20 participants across the system will also win $25 gift cards for merchandise at the campus bookstore!
Follow these steps to get involved and support positive impacts!
To get started, go to https://tinyurl.com/CSUCIchallenge to join CSUCI's team;
Next, look through the action categories and select actions you will take during Earth Month;
Finally, log in daily (or as often as you can) to log your actions and earn points for you and our team!
The challenge runs April 1-30. Let's show the CSU how big a splash our Dolphins can make!
For more information contact Roxane Beigel-Coryell at roxane.bc@csuci.edu.