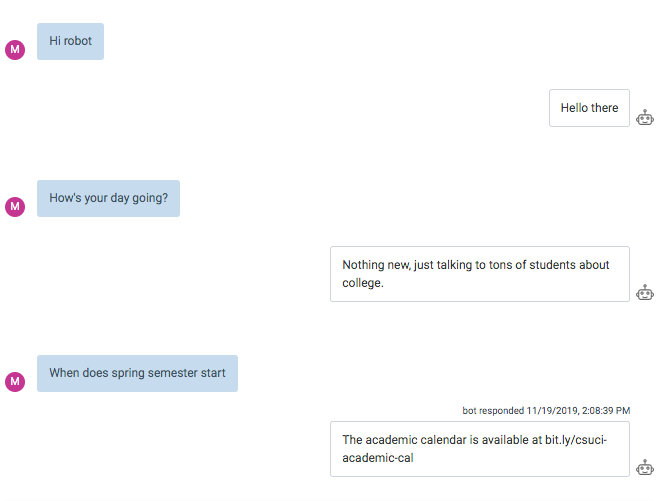 Nov. 6, 2020 - The recently released EDUCAUSE 2020 Student Technology Report features CSUCI's Ekhobot, naming CSUCI as one of three exemplar universities using innovative technology to support students.
Although artificial intelligence (AI) bots are often associated with impersonal and detached interactions, Ekhobot has been created with a friendly and caring personality, focused on fostering a trusted relationship with students and providing them the help and information they need to navigate the complicated terrain of higher education.
Each semester, a calendar of scheduled "campaign" messages is planned, identifying important information to send to students; these messages include dates/deadlines, events, available resources, academic support services, and student wellbeing. Messages can nudge students towards an action (e.g. meeting with an academic advisor), survey them to better understand their needs, or simply provide a fun interaction and encouragement.
The University's work on creating authentic and meaningful interactions with students to support their academic success through Ekhobot is highlighted in the Student Success section of the EDUCAUSE report and promotes CSUCI as a peer university to connect with. 
For more information contact Tara Hughes at tara.hughes@csuci.edu.