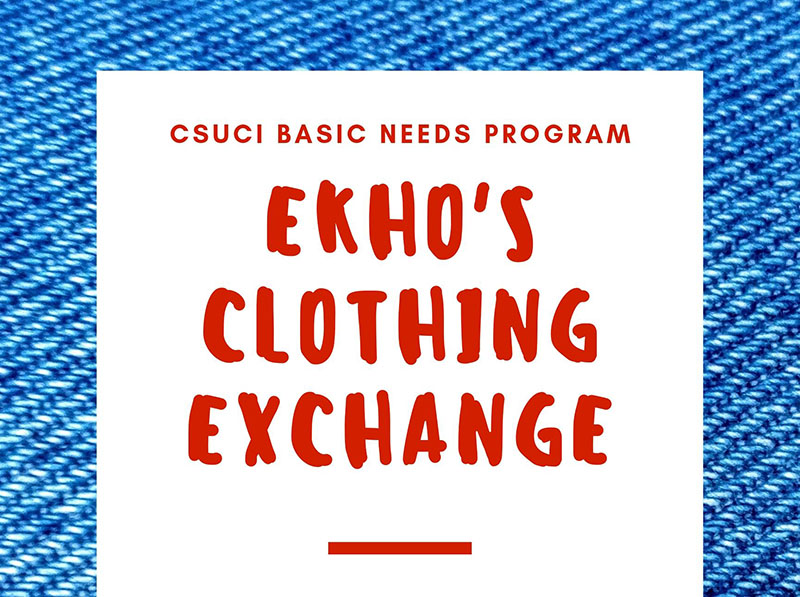 Oct. 9, 2019 - The Basic Needs Program is proud to present the grand opening of Ekho's Clothing Exchange! Located in Arroyo Hall on the first floor, room1 15,  Ekho's Clothing Exchange will be open on the following days:
Monday: 11 a.m. to 4 p.m.
Tuesday: noon to 6 p.m.
Wednesday: 11 a.m. to 4:30 p.m.
Thursday: noon to 3 p.m.
Friday: 11 a.m. to 2 p.m.
The policy at Ekho's Exchange is three (3) for free, one visit per semester, 15 minute limit, and check-out using survey.
We are accepting donations every Wednesday from noon to 4 pm at Arroyo Hall. We are immediately seeking new or gently used: jeans, business casual, everyday wear, & seasonal clothes. We have the right to refuse clothes.
Donations must be dropped off with a staff person. Items with stains, tears, missing buttons, or broken zippers will not be accepted.
For  more information contact the Basic Needs Program at 805-437-2067 or basicneeds@csuci.edu.