July 1, 2019 -- Immigration, labor and the environment are the target issues to be tackled by 30 teens ages 15 to 18 who will gather through July 23 at CSU Channel Islands (CSUCI) for The Encampment, a youth project supported in its early years by former First Lady Eleanor Roosevelt, John F. Kennedy, and Rev. Martin Luther King, Jr.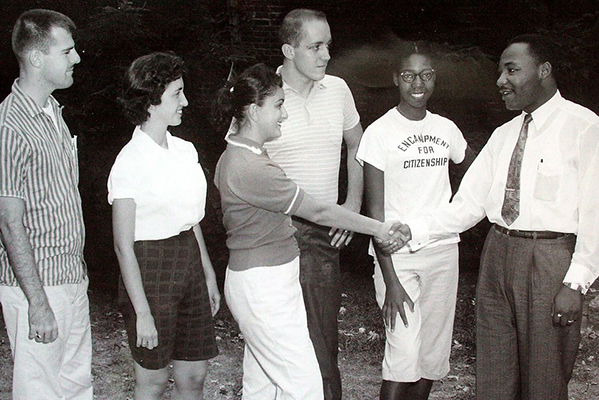 The "Encampers" will come from cities and suburbs, from rural reservations, small towns, big cities, and regions north, south, east, and west. They will be from different ethnic and cultural backgrounds, and from a variety of different perspectives and circumstances. For three weeks as these 30 teens listen to one another and learn of one another's experiences, issues that seemed far off will suddenly come into sharp relief.
"It's aimed at helping young people confront different issues in all of their complexity and not settle for easy answers," said Margot Gibney, EFC Executive Director. "Social issues will no longer be these abstract forces in other people's lives. They are directly impacting the lives of the new friends they are making."
The objective of The Encampment summer program is to provide youth from different backgrounds with an immersive, compelling experience in democracy with emphases on critical thinking, curiosity, cooperation, civic engagement, and social action.
Participants will spend three weeks living on campus, working together, listening to one another, developing possible solutions to the challenges before them, and interacting with Ventura County community organizations and businesses relevant to the issues they are researching. The Encampers will go home with an action plan and will follow up with one another throughout the year as their action plans take root.
Professor of Education Kaia Tollefson and Dean of the School of Education Brian Sevier worked to bring The Encampment to CSUCI.
A 2015 meeting between Tollefson and the principal of Rio Real School in Oxnard, María M. Hernández, Ph.D., put the plans in motion. Hernández was a high school dropout until she attended the Encampment as a teen, adjusted her goals and went on to earn a doctorate.
Tollefson was inspired, and hoped to bring The Encampment to CSUCI. This year that hope finally became a reality.
"We are very excited about a relationship with The Encampment. We have the opportunity to learn from their approach to engaging and honoring youth, and we hope they will benefit from the program evaluation and research opportunities we can provide," Tollefson said. "More importantly, though, this program will touch our entire region, with potential to involve so many people in Ventura County and beyond."
Gibney said CSUCI and the surrounding community have been enthusiastic about devoting time to the young people, with visits planned to the Ventura County Food Bank, a prominent immigration attorney, local farms, and several other organizations.
On July 6, the Encampers will put on a "tea party" at the Rio Lindo School, so named for the compost tea they will be using to help Rio Lindo in its goal of becoming the first pesticide-free school in the county. They will also be making 400 tamales to serve guests in observance of Rio Lindo going pesticide-free.
The students will cultivate the soil organically, and then on July 10, they will put on a fundraiser at BG's Cafe, 428 South A Street in Oxnard to support Rio Lindo's pesticide-free project.
On July 20 of the EFC's final weekend, adult Encampment alumni, parents, community members, and the 2019 Encampers will have an intergenerational dialogue. In the evening, the students will share what they've learned and perform songs they have composed with coaching from Jane Sapp, EFC Curriculum Director.
"This community is very special and very welcoming — more so than any other I've been involved with," Gibney said. "We have a critical mass of Encampment alumni in this region, including Dr. Maria Hernandez."
Gibney has been the executive director of the program since 2014, and is herself an Encampment alumna. The Connecticut native participated in an Encampment in 1971, arriving on a bus that took 90 teens to Montana where she learned about farming, local American Indian culture, and how a community of Mennonites lived.
"I had been interested in social issues from a very young age, and I was 14 when I went," she said. "People think it's cute when a 14-year-old has opinions and convictions. At the Encampment, it wasn't cute. I was taken seriously and I could weigh in with everybody."
Tollefson plans to develop a course around the Encampment principles of critical thinking, cooperation and social justice. She believes there has never been a better time to bring young people together in the true spirit of democracy.
"The world is on fire right now," Tollefson said. "We're having trouble finding a meeting ground together, and it's such a travesty. We all tend to care about the same things. We want happy and healthy lives, no matter our political affiliations. At our core, we tend to have really common hopes for what the future could be."