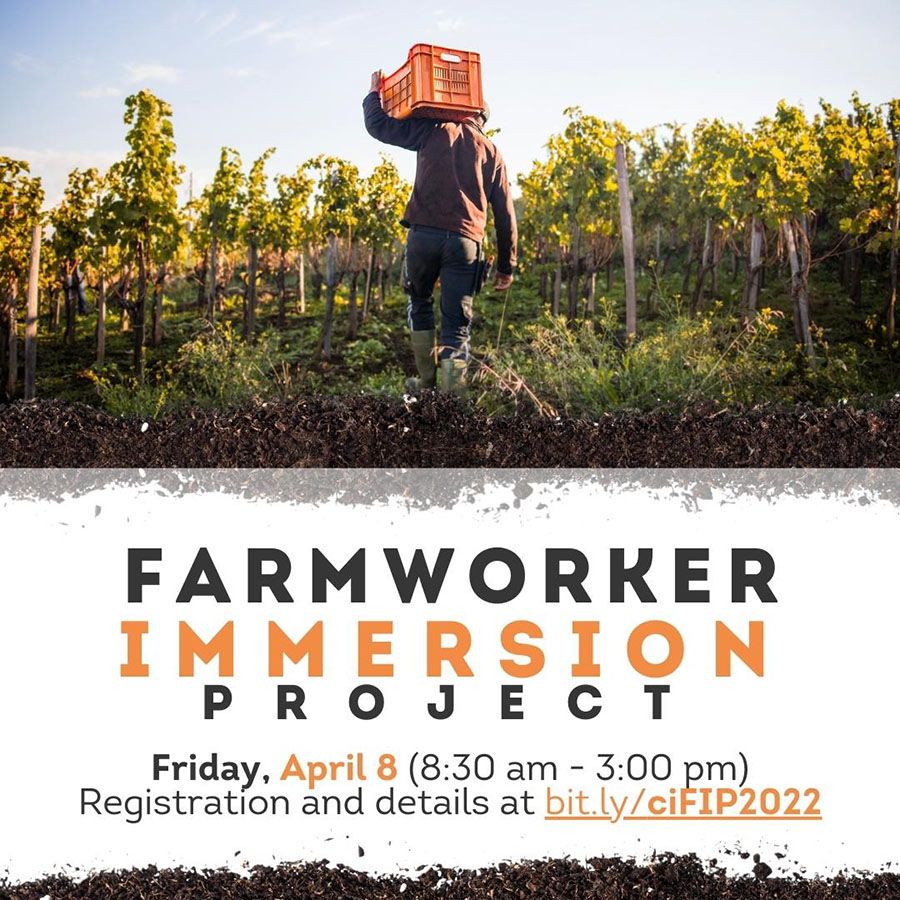 March 30, 2022 - In collaboration with Cabrillo Economic Development Corp., House Farm Workers!, Reiter Affiliated Companies, and CSUCI's Chicana/o Studies and Sociology Program, the Center for Community Engagement invites you to register for the Farmworker Immersion Project (FIP). The FIP is a program that places participants in the community to learn about farmworker rights, housing, and health resources.
The FIP will guide students through a first-hand experience of typical farmwork life in Ventura County. We will visit a local berry farm, managed by Reiter Affiliated Companies, where students will learn about the agricultural business in our county, then work in the field as the farm manager instructs on how to harvest berries. In the afternoon, we will visit an affordable housing community, Villa Cesar Chavez Apartments, to learn about its history and to speak with farmworker families.
Please RSVP if you plan to attend. Transportation is included. Space is LIMITED. Participants will meet at the Peace Pole in Central Mall on Friday, April 8.
All participants must attend an orientation session in person or via zoom:
In-Person:
Tuesday, April 5 (10:30 to 11:45 a.m.) – Bell Tower 2505
Tuesday, April 5 (noon to 1:15 p.m.) – Room TBD
Virtual:
Wednesday, April 6 (3:45 – 5 p.m.) – Zoom link to be sent out after registration
For more information contact Laurie Geier at laurie.geier@csuci.edu.
The University encourages persons with disabilities to participate in its programs, events and activities. If you anticipate needing any type of accommodation, or have questions about the physical access provided, please contact the respective area below as soon as possible, but no later than seven (7) business days prior to the event/activity: 
CSUCI Students
Disability Accommodations & Support Services: accommodations@csuci.edu
CSUCI Employees
Human Resources: angela.portillo@csuci.edu
Members of the Public
Title IX & Inclusion: titleix@csuci.edu