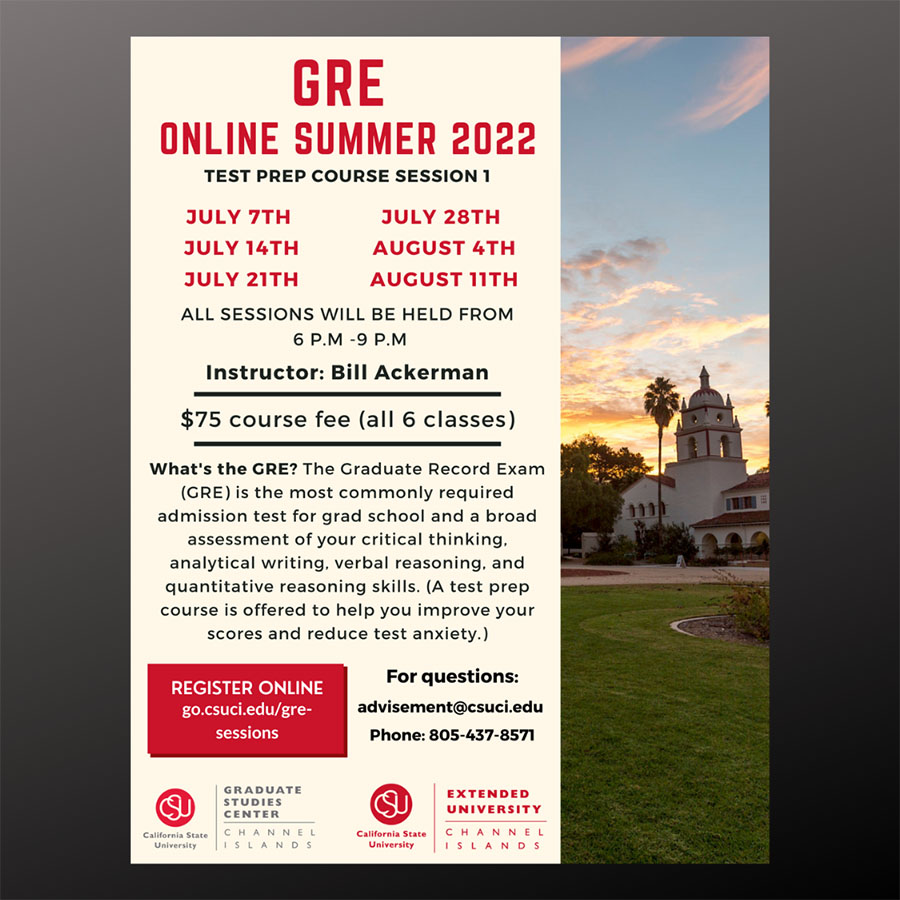 June 20, 2022 - The most common entrance exam for graduate school is the Graduate Record Exam (GRE). The GRE is a broad assessment of your critical thinking, analytical writing, verbal reasoning, and quantitative reasoning skills. This non-credit test prep course is offered to help you improve your scores and reduce test anxiety.
The Academic Advising Center and Extended University are pleased to offer the following set of dates for GRE Test Preparation:
July 7, 14, 21, 28
August 4, 11
All sessions will be held online via Zoom from 6 to 9 p.m.

Registration is required and a flat fee of $75 is due at the time of registration. Books are not included with the course fee.

For more information, visit the Test Prep Sessions website or contact the Academic Advising Center at advisement@csuci.edu.
The University encourages persons with disabilities to participate in its programs, events and activities. If you anticipate needing any type of accommodation, or have questions about the physical access provided, please contact the respective area below as soon as possible, but no later than seven (7) business days prior to the event/activity: 
CSUCI Students
Disability Accommodations & Support Services: accommodations@csuci.edu
CSUCI Employees
Human Resources: angela.portillo@csuci.edu
Members of the Public
Title IX & Inclusion: titleix@csuci.edu