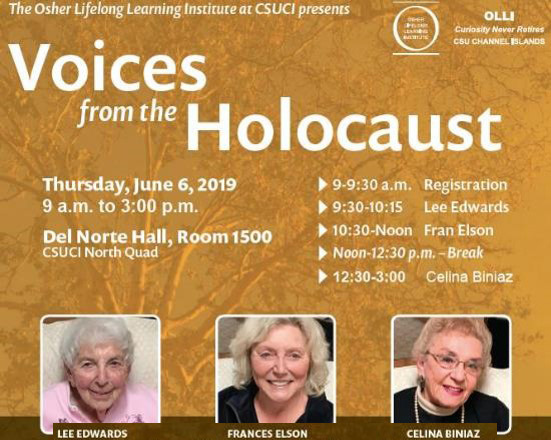 May 8, 2019 - The community is invited to attend "Voices of the Holocaust" on Thursday, June 6 from 9 a.m. to 3 p.m. in Del Norte Hall 1500. This symposium features three amazing speakers who will share their experiences and stories from enduring one of the most horrific events in world history.
Lee Edwards is 96 years old and a survivor of the Holocaust and Kindertransport and was sent to England in 1939 to escape Nazi occupation in Germany. She received the Woman of Valor Award by the Jewish Community in October 2018.
Frances Elson has dedicated her time examining her parents' experiences in the Holocaust and tracing her family's journey to relocation camps from Poland to Kazakhstan to Germany, finally reaching freedom in Canada. She shares their legacy through the strength and fragility of fused glass. Frances' fused glass project, "Broken," is currently on display at the Museum of Ventura County.
Celina Biniaz is an 87 year old survivor of the Holocaust and was the youngest girl on Schindler's list. Her story began in Poland and continued to Czechoslovakia to escape and having her humanity restored in Bavaria. She will discuss her family, struggles they faced, the camps and how they survived. After nearly a half-century of silence, Steven Spielberg gave her a voice with his 1993 film "Schindler's List."
Registration for the symposium opens on May 21. The event is free and open to the public; RSVP's are recommended due to limited seating.
For more information visit ext.csuci.edu/holocaust or call 805-437-2748 ext. 0.