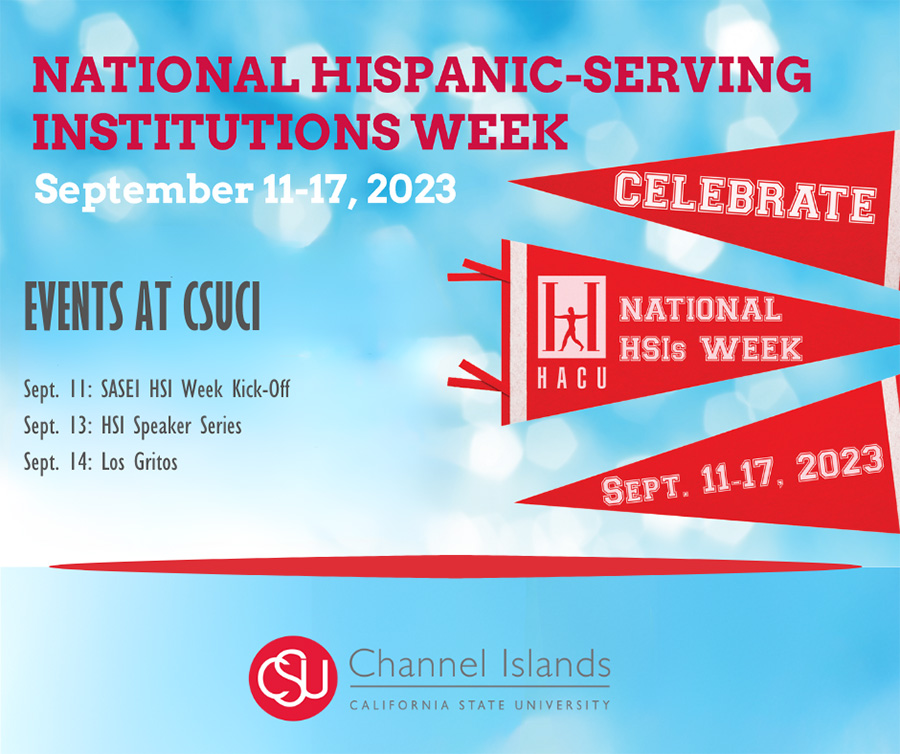 Sept. 8, 2023 – The Hispanic Association of Colleges and Universities (HACU) has identified Sept. 11-17 as National Hispanic-Serving Institutions (HSI) week. This time is intended to celebrate our status as an HSI and raise awareness about what that means and the importance of our role in supporting student success for traditionally underserved students.
At CSUCI, the Student Academic Success & Equity Initiatives (SASEI) team will host events throughout the week, providing opportunities for students to engage with one another and connect to share common experiences.
Events for the week include:
Monday, Sept. 11: HSI Week Kick-off Pachanga,11 a.m. to 1 p.m. in El Dorado Hall

Enjoy delicious food from a taco truck, piñata, music, and Millennial Loteria.
Vice Provost Jessica Lavariega Monforti will be in attendance to provide remarks and kick off the celebration! 

Wednesday, Sept. 13: 2023-2024 HSI Pláticas Series, featuring Angel de Jesus González, 11 a.m. in El Dorado Hall

Gonzalez will share about enacting "servingness" in higher education

Thursday, Sept. 14: 2nd annual Los Gritos, 6 to 9 p.m. at the Central Mall

Join us as we honor the struggles against colonialism and celebrate the independence movements throughout Mexico, Central, and South America
Please RSVP for the events you plan to attend.
We are excited to celebrate this important week and look forward to seeing you at the events!
For more information contact Mónica Ocampo at monica.ocampo@csuci.edu.
The University encourages people with disabilities to participate in its programs, events and activities. If you anticipate needing any type of accommodation or have questions about the physical access provided, please contact the respective area noted below as soon as possible, but no later than seven (7) business days prior to the event/activity:
CSUCI Students
accommodations@csuci.edu
CSUCI Employees and Members of the Public
angela.portillo@csuci.edu