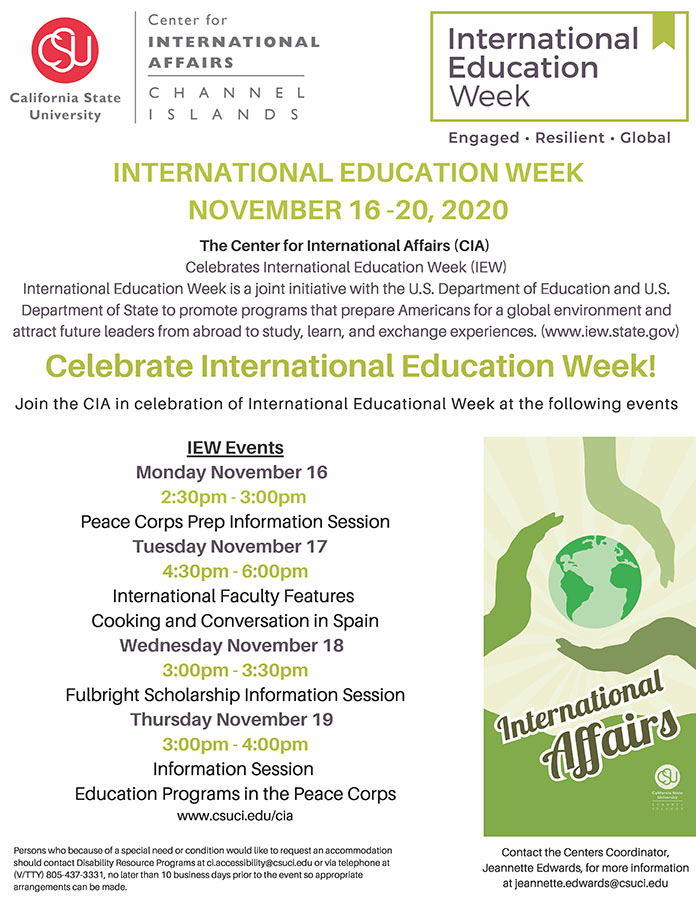 Nov. 13, 2020 - The Center for International Affairs presents International Education Week, Nov. 16-19! Featuring a different event each day, the campus community is invited to attend any or all events and learn more about our amazing world. 
Events include:
Monday, Nov. 16, 2:30-3 p.m.: Peace Corps Prep Information Session (via Zoom)
Tuesday, Nov. 17, 4:30-6 p.m.: Faculty Features - Cooking and Conversation: Learn to Cook Paealla with Maria Ballesteros-Sola, Antonio Jimenez Jimenez and Sonsoles de la Calle (register online)
Wednesday, Nov. 18, 3-3:30 p.m.: Fulbright Scholarship Information Session (via Zoom)
Thursday, Nov, 19,  3-4 p.m.: Information Session - Education Programs in the Peace Corps
For more information contact Andrea Grove at andrea.grove@csuci.edu.