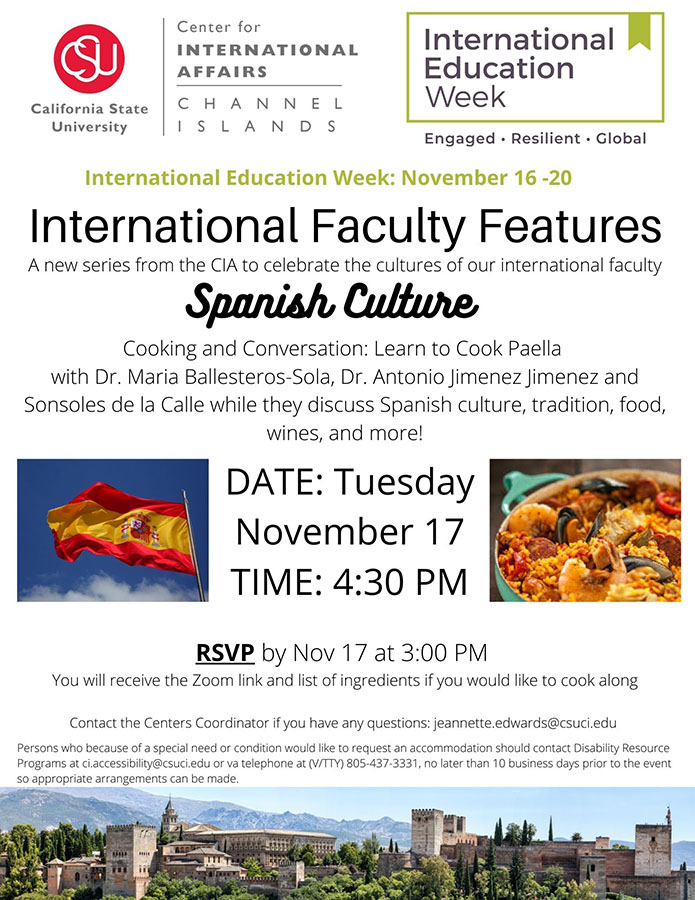 Nov. 13, 2020 - The Center for International Affairs is pleased to announce a new series: International Faculty Features, created to celebrate the cultures of our international faculty.
The first in the series will be Spanish Culture - Cooking and Conversation: Learn to Cook Paealla. Attendees will learn how to cook paealla with Maria Ballesteros-Sola, Ph.D., Antonio Jimenez Jimenez, Ph.D., and Sonsoles de la Calle, Ph.D. This inaugural session will take place during International Education Week on Tuesday, Nov. 17 from 4:30 to 6 p.m. 
Learn to create this delicious dish while the instructors discuss Spanish culture, tradition, food, wines and more! Those who plan to attend should register online in advance. The deadline to register in time to receive the Zoom link and a list of ingredients is Nov. 17 at 3 p.m. 
For more information contact Jeannette Edwards at jeannette.edwards@csuci.edu.