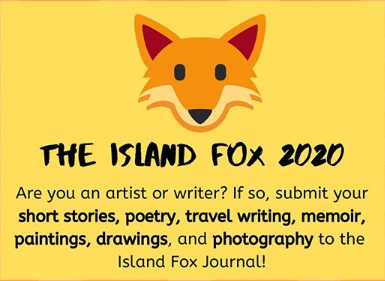 Feb. 11, 2020 - Have you ever wanted to be a published writer or artist? If the answer is yes, this is now your chance!
Please submit your short stories, poetry, travel writing, novel excerpts, personal essays, paintings, drawings, and photography for publication* in this year's Island Fox, CSUCI's official literary journal!
Submissions should sent to the official Island Fox email account: island.fox@csuci.edu. The deadline to submit your work is Monday, Feb. 17. Remember, there is no limit to the amount of pieces you can send, but each piece should be no more than 5,000 words. You  may send your work as an attachment (Word or PDF) and only include your name, contact information and the genre of your piece in the body of your email.
Follow @csuci_islandfox on Instagram for updates!
For more information contact Michale Le at michael.le290@myci.csuci.edu, email island.fox@csuci.edu or reach out via DM (direct message) on social media. 

*The decision-making process remains anonymous; evaluators will not know whose work they are judging.