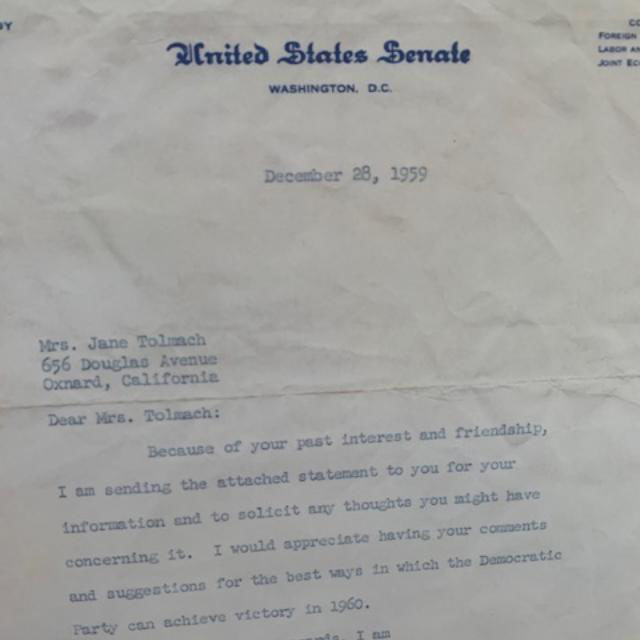 Nov. 12, 2019 - A woman of firsts, Jane Tolmack served on the Oxnard City Council from 1970-1978 and as Mayor of Oxnard from 1973-1974. She campaigned heavily for John F. Kennedy's election in 1960 and Robert F. Kennedy's candidacy in 1968.
As a wife and mother, Jane initially became active in politics by hosting coffee fundraisers in the early 1950s. By the decade's end, she became a tried and true friend and active supporter of both of the Kennedy brothers, during their Presidential campaigns. 
A wonderful surprise awaited university archivist Evelyn Taylor and her assistant Kim Williams, while processing Jane Tolmack's treasure trove of materials. Within the collection, various Kennedy materials emerged, ranging from newspaper articles addressing the assassination, to JFK campaign pins, buttons, and pamphlets, correspondence with original signatures, and inaugural invitations.
President Kennedy served as the 35th president of the United States from January 1961, until his assassination on November 22, 1963. This exhibit honors and commemorates both of these remarkable individuals and will run until December 31, 2019.
For more information contact Evelyn Taylor at 805-437-8830 or evelyn.taylor@csuci.edu.