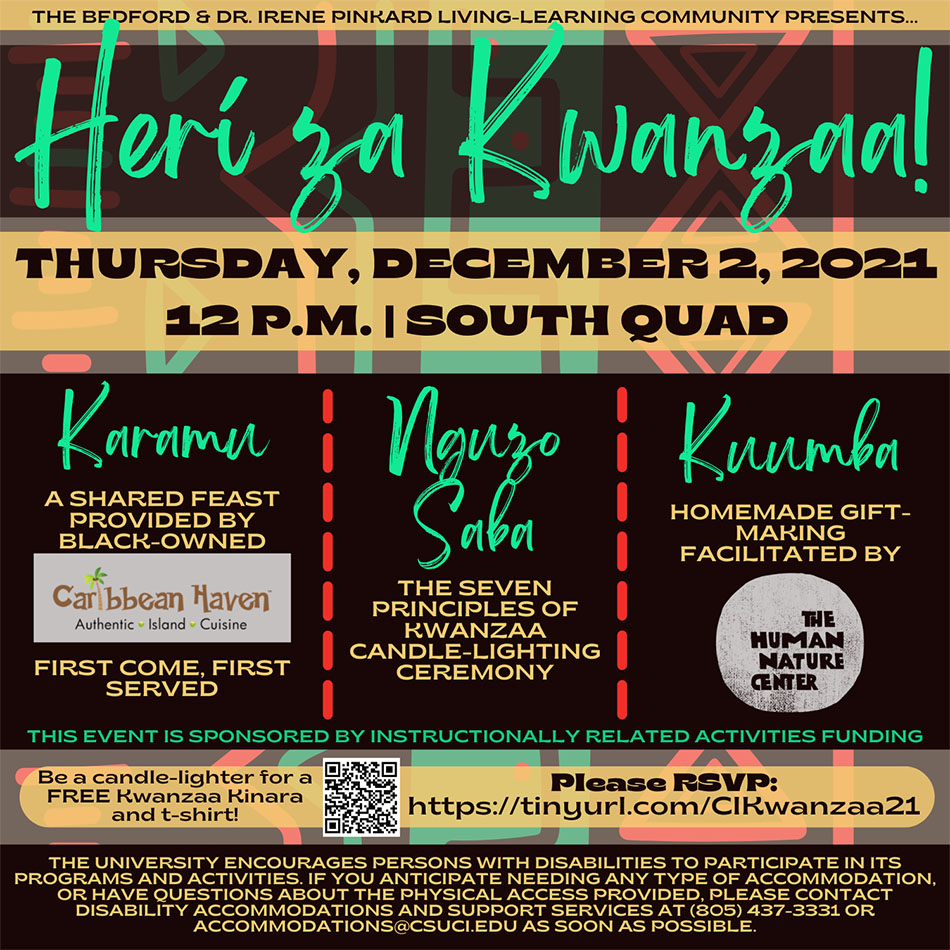 Nov. 23, 2021 - Please join The Bedford & Dr. Irene Pinkard Living-Learning Community for our third annual Kwanzaa event on Thursday, Dec. 2 at noon at the South Quad.
Come enjoy a Karamu (feast) meal provided by the local Black-Owned restaurant, Caribbean Haven. Learn about the history and traditions of Kwanzaa at our Nguzo Saba (seven principles) candle-lighting ceremony and make homemade beeswax candles and paper beads with The Human Nature Center of Ventura in the spirit of Kuumba (creativity, Kwanzaa principle #6)!
Seven students who volunteer to be candle-lighters during our Nguzo Saba candle-lighting ceremony will receive their very own handmade Kinara (candle holder) and Kwanzaa seven principles t-shirt! Candle-lighters will be filmed so that the ceremony can be accessible to the campus community via social media on the actual days of Kwanzaa (December 26 - January 1).
Folks interested in attending should RSVP online. Food and craft supplies will be available on a first come, first served basis. This event is sponsored by Instructionally Related Activities funding.
For more information contact Venessa Griffith at venessa.griffith@csuci.edu. 
The University encourages persons with disabilities to participate in its programs, events and activities. If you anticipate needing any type of accommodation, or have questions about the physical access provided, please contact the respective area below as soon as possible, but no later than seven (7) business days prior to the event/activity:
CSUCI Students
Disability Accommodations & Support Services:accommodations@csuci.edu
CSUCI Employees & Members of the Public
Title IX & Inclusion:titleix@csuci.edu