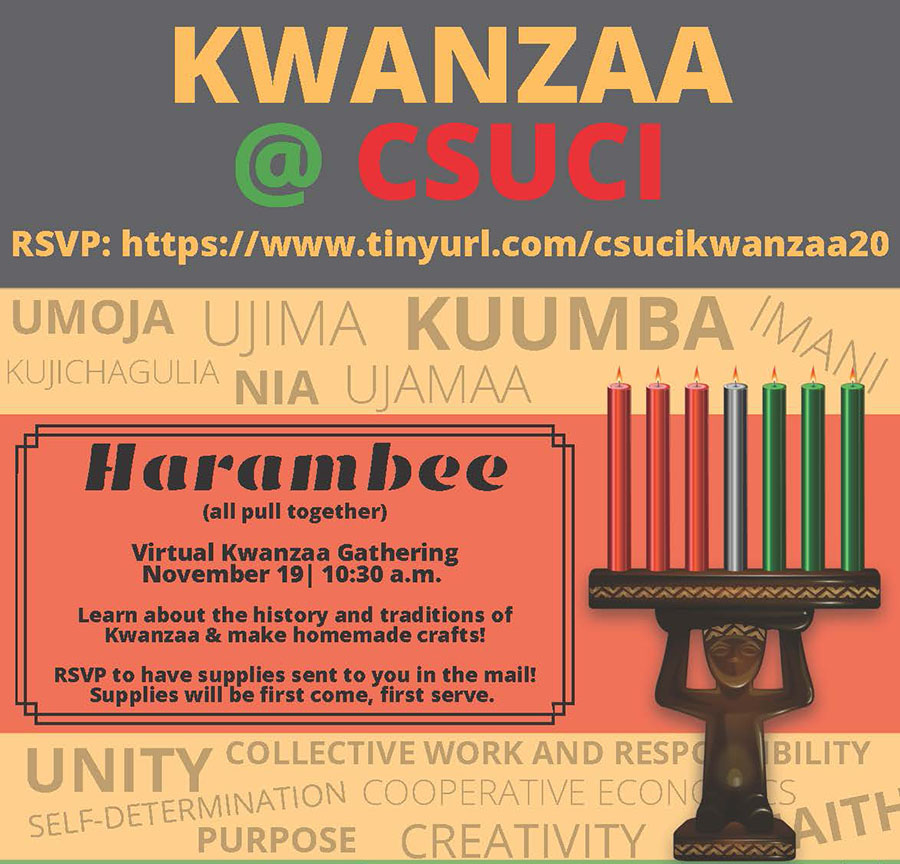 Nov. 10, 2020 - The campus community is cordially invited to participate in the Bedford & Dr. Irene Pinkard Living-Learning Community's "Kwanzaa @ CSUCI". "Kwanzaa @ CSUCI" is sponsored by the Center for Multicultural Engagement and Instructionally Related Activities funding.

Students will have the opportunity to participate virtually in a daily candle-lighting and an exploration of Nguzo Saba (the 7 principles of Kwanzaa). Five students will be selected and provided a Kwanzaa kit (to keep) with instructions for performing/recording the candle-lighting ceremony for their assigned day/principle. Participation in the candle-lighting and provision of a Kwanzaa kit will be handled on a first come, first serve basis.

We will also have a virtual "Harambee" gathering to explore the history and principles of Kwanzaa on Thursday, Nov. 19 from 10:30 a.m. to about noon. As part of this event, we will be doing a craft of making homemade gifts (beeswax candles and paper beaded jewelry) for loved ones in the spirit of Kuumba (Creativity), led by The Human Nature Center of Ventura. Supplies can be sent to participants, but will be handled on a first come, first serve basis.
Register online if you plan to attend. 

For questions regarding Kwanzaa @ CSUCI contact venessa.griffith@csuci.edu.