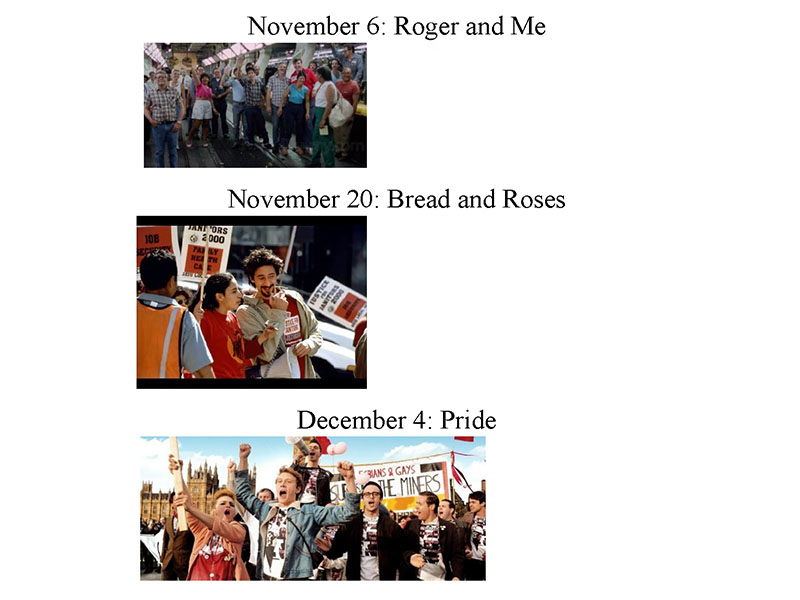 Nov. 4, 2019 - Join History Lecturer Michael Powelson, Ph.D., as he hosts a Labor Film Series over the next four weeks, examining the impact and evolution of the changing labor force. The list of films being screened is below; all screenings will be held at 5 p.m. in Ojai Hall 1986.
Nov. 6: "Roger and Me"
Michael Moore's first film investigates the impact on his home town of Flint, Michigan, when over 3,000 workers are laid off, resulting in skyrocketing drug abuse and crime
Nov. 20: "Bread and Roses"
In Los Angeles, undocumented Mexican immigrant Maya and her sister Rosa work for a non-union company, where conditions are grim. In response, Maya joins with a union representative to organize Los Angeles janitors, many of them undocumented.
Dec. 4: "Pride"
Based on a true story, a group of lesbian and gay activists organize support for families affected by the British miners' strike in 1984. This movement would become the Lesbians and Gays Support the Miners campaign. 
For more information contact Michael Powelson at michael.powelson@csuci.edu.