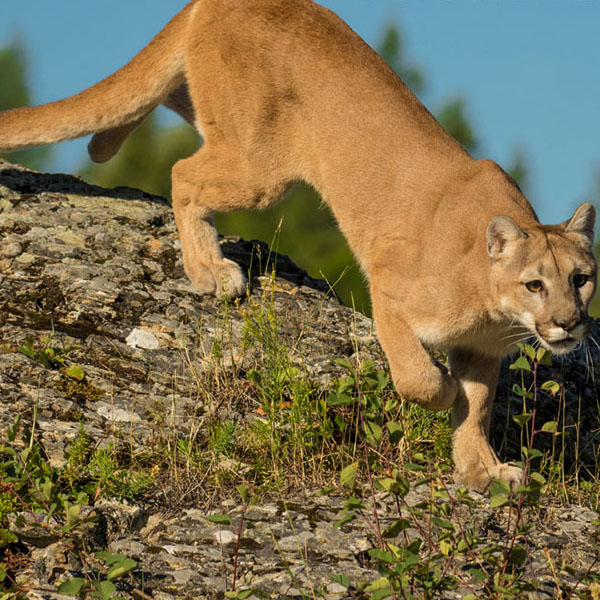 Feb. 7, 2023
Dear Campus Community,
We continue to face a difficult situation with ongoing sightings near residence halls of a juvenile mountain lion that is not collared. I am writing to inform the campus and residents of University Glen about measures we have taken to manage this ongoing problem.
For example, we are presently exploring with the California Department of Fish & Wildlife (CDFW) options available to protect the community and which are consistent with the mountain lion's status as a specially protected species. Situated as we are at the base of the Santa Monica Mountains, CSUCI is in the realm of this animal's habitat, and each of us has the responsibility of keeping ourselves safe in this context.
Steps we have taken to manage aspects of this situation that are under our control include the following:
We invited the CDFW to provide education and guidance to CSUCI and University Glen community members. On Feb. 6, presentations were provided on the campus by Jessica West, an environmental scientist who specializes in human-wildlife conflict. We invite you to watch a recording of the presentation, which includes mountain lion facts and safety tips, on our website.
University Police Department officers frequently patrol near residence halls and in University Glen during evening hours and throughout the night when the mountain lion is most active.
Residence hall administrators and Resident Assistants are notified whenever there is a sighting so they can immediately share the news with residents. Messaging to residents is that they are strongly encouraged to remain indoors from dusk through dawn.
Tall grass and brush have been trimmed down to remove inviting cover that was near on-campus (student) residential areas.
Police officers are available to provide escort to any member of the campus community. Call 805-437-8444 at any hour to access this service.
We have remained in close contact with local officials from CDFW and have begun discussions with its statewide office, as well as engaging with the Ventura County Sheriff's Department, doing what we can to not only keep members of the CSUCI and University Glen communities safe, but also to do everything that we can to protect the life of this young mountain lion.
Additionally, we have provided messaging to the CSUCI and University Glen communities, though regretfully, one response from people has been to opt out of campus alerts. I cannot stress enough how important it is to resist that temptation. From mountain lions to wildfires to earthquakes and more, CSUCI Alerts are the best way to let you know of any threat to campus safety. I encourage you to encourage others to sign up for our CSUCI Alerts.
If you have any questions or concerns, please feel free to email police@csuci.edu or call 805-437-8444 to report a sighting or to speak with someone about your concerns.
Sincerely,
Drake Massey
Interim Chief of Police