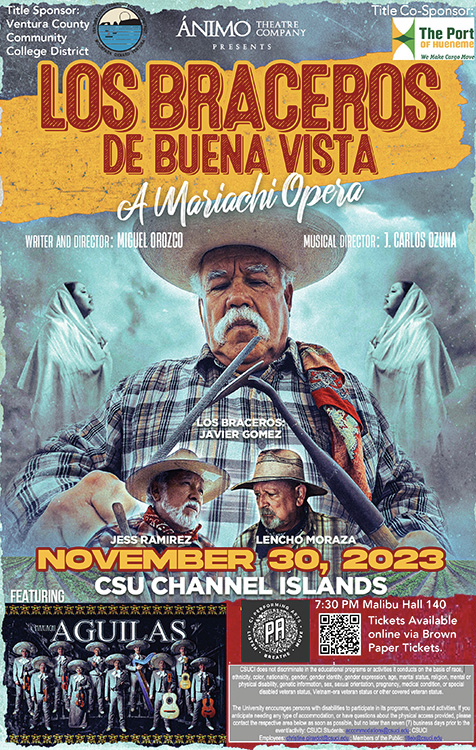 Nov. 8, 2023 – Join us on Nov. 30 at 7 p.m. in Malibu Hall 140 for "Los Braceros de Buena Vista," a "Mariachi Opera" that fuses mariachi music, ballet folklorico, and powerful "opera" style set pieces.
"Los Braceros de Buena Vista" is set in the 1950s at the height of the Bracero program and highlights the challenges and injustices workers faced in the U.S. and focuses on the Buena Vista labor camp. The show is both a cultural and educational experience that teaches an important part of Mexican-American history that is often overlooked.

The Mariachi music in "Los Braceros de Buena Vista" is performed by Mariachi Águilas de Oxnard de J. Carlos Ozuna – one of the premiere mariachi ensembles in Southern California.

Tickets are free and available online.
For more information contact Pilar Pacheco at pilar.pacheco@csuci.edu.
The University encourages persons with disabilities to participate in its programs, events and activities. If you anticipate needing any type of accommodation, or have questions about the physical access provided, please contact the respective area below as soon as possible, but no later than seven (7) business days prior to the event/activity:
CSUCI Students
accommodations@csuci.edu
CSUCI Employees and Members of the Public
angela.portillo@csuci.edu