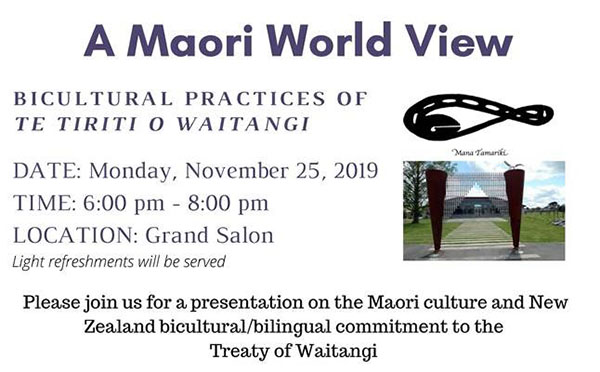 Nov. 20, 2019 - The Center for Multicultural Engagement is partnering with the School of Education to host "A Maori World View: Bicultural Practices of Te Tiriti O Waitangi" on Monday, Nov. 25 from 6 to 8 p.m. in the Grand Salon. This event is free and open to the public; light refreshments will be served.
We hope you can join us for a wonderful presentation on the Maori Culture and New Zealand bicultural/bilingual commitment to the Treaty of Waitangi, hosted by guest speakers Brenda Soutar and Wendy Lee.
Brenda Soutar is a prominent Maori leader from the North Island of New Zealand and is an administrator at the renowned Mana Tamariki Maori School located in Palmerston North, New Zealand. The school requires both parents to speak Maori to their children at all times, an important practice for Soutar, a passionate advocate for the restoration of the te reo Maori (Maori language). 
Wendy Lee is a distinguished New Zealand educator, author, international speaker, and Director of the Educational Leadership Project (Ltd.). She has been involved in the early childhood education field for the last 45 years as a teacher, lecturer, administrator, researcher, and has also presented and influenced assessment practices throughout the world. 
For more information contact Jeannette Edwards at 805-437-2608 or jeannette.edwards@csuci.edu.