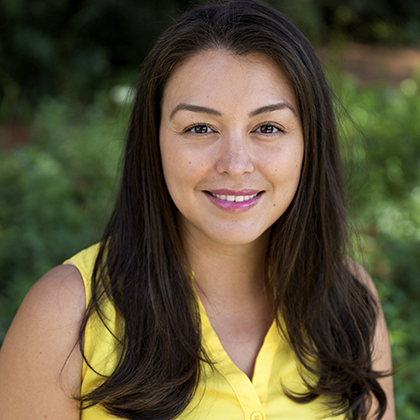 Dec. 20, 2022 — The National Science Foundation is continuing to fund Mathematics faculty member Selenne Bañuelos' appointment as associate director for the Institute for Pure and Applied Mathematics.
A subaward of $274,750 from the Regents of the University of California will allow Bañuelos to gain experience in academic administration and exposure to cutting-edge research at the UCLA-based institute.
Bañuelos began a two- or three-year sabbatical in August 2021 to join the institute, which is one of only seven in the nation funded by the NSF. She is working with math researchers from across the world and helping to arrange research programs tackling issues such as big data, cybersecurity and autonomous vehicle development.
One of only five Latinas among the nearly 2,000 people who received doctorates in Mathematics in the U.S. during the 2012-14 academic term, Bañuelos joined the CSUCI faculty in 2014. In 2020, she was one of three beginning college faculty members in the country who received the Henry L. Alder Award for Distinguished Teaching in undergraduate mathematics. She was the campus lead for a $6 million U.S. Department of Education grant awarded to help Latino STEM majors graduate.
For more information, contact Research and Sponsored Programs at rsp@csuci.edu.