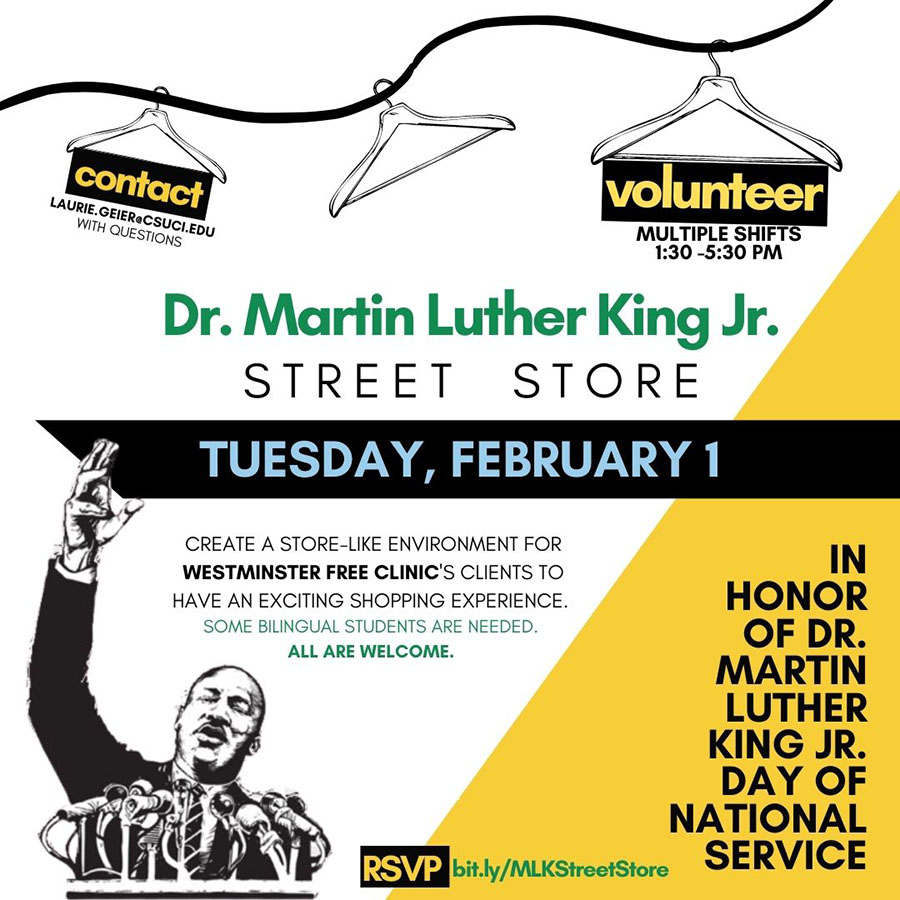 Jan. 18, 2022 - In honor of Dr. Martin Luther King Jr. Day of National Service, the Center for Community Engagement is partnering with Westminster Free Clinic in Oxnard to create a pop-up, donation-based, store where all items are FREE, on Tuesday, Feb. 1.
We will be distributing donations previously collected for the (canceled) Holiday Street Store PLUS any donations collected between Jan. 10-26. Lightly used and new items of clothing, books, and toys can be dropped off at Ojai Hall 1934 (The Center for Community Engagement Office), Monday through Friday, between 8 a.m. and 5 p.m.
Event volunteers are needed from 12:30-5:30 p.m. on Feb. 1 to act as store clerks and help direct traffic at this exciting community service event! Spanish-speaking skills will be extremely useful, but not required of volunteers. Register to volunteer at
http://bit.ly/MLKStreetStore
.
Those not transporting donations from CSUCI to Westminster Free Clinic will meet at St. Paul's United Methodist Church (1800 S. C Street, Oxnard, CA, 93033) at 1:30 p.m. for set-up. The Store will open from 3 to 5 p.m.
The University encourages persons with disabilities to participate in its programs, events and activities. If you anticipate needing any type of accommodation, or have questions about the physical access provided, please contact the respective area below as soon as possible, but no later than seven (7) business days prior to the event/activity: