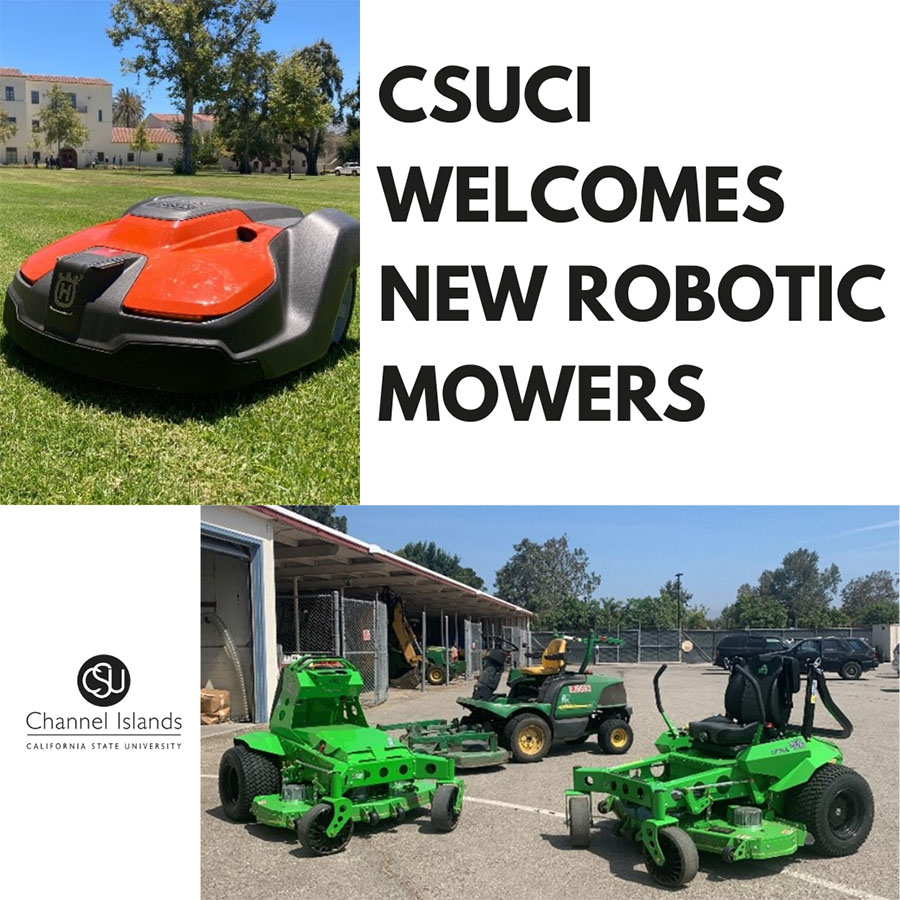 Aug. 29, 2022-   Landscape maintenance is about to get a little quieter at CSU Channel Islands. The University is rolling out four new electric mowers to manage some of the forty acres of lawn throughout campus. The new mowers consist of two Mean Green full-size mowers, and two Husqvarna autonomous mowers – think a Roomba for your lawn.
The autonomous electric mowers are bringing fun, new personality to the campus. CSUCI's Facilities Services had a short list of names to consider for the new additions, including: Mowberto (in honor of lead landscaper Roberto), Mowlenium Faclon, Lightning MowQueen, Lawnbourgini, and Mowboto, among others. After a tight race on Instagram, Mowberto and Lightning MowQueen came out on top.
Mowberto and Lightning MowQueen will be working in the North Quad and in front of Placer Hall, respectively. Through a GPS program, they can learn their job sites and navigate around known obstacles, such as walls and trees. If an unknown obstacle, such as a person, is in their path, they will slow down, lightly bump into the object, and then turn away to proceed in a new direction.
The addition of these mowers allows the landscaping team to reallocate staff resources to areas that need more attention, such as ornamental planters throughout campus.
The Mean Green mowers are also an important addition to CSUCI's equipment fleet, as they are replacing two gas-and diesel-powered mowers. You can't miss them – they're bright green and will be used to maintain about 25% of the campus turf. These new electric models can run six hours on a charge and are quieter, require less maintenance, and have zero tailpipe emissions. This adds up to fewer maintenance costs, less noise pollution, and improved air quality.
Learn more about CSUCI's sustainability practices and keep up with the adventures of Mowberto and Lightning MowQueen on CSUCI's sustainability Instagram account @sustainabilityatcsuci.
For more information contact Roxane Beigel-Coryell at roxane.bc@csuci.edu.