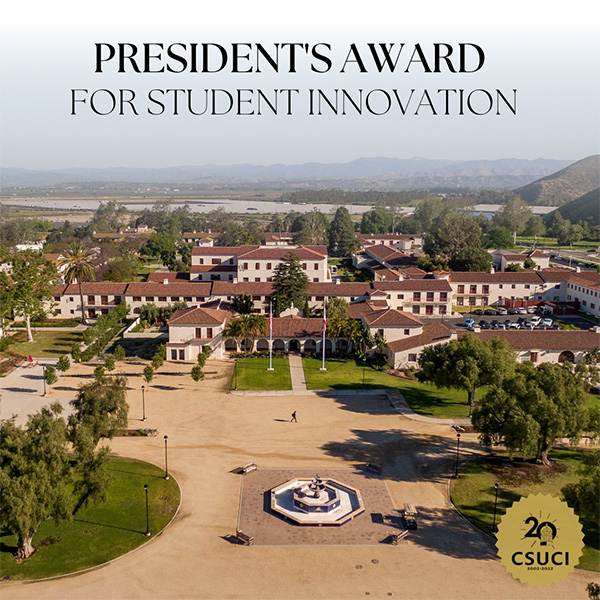 May 23, 2023 - The President's Award for Student Innovation is presented in recognition of a student who has developed and/or implemented an innovative program, learning activity, or service that is unique and provides significant contribution to CSUCI or the broader community.
Example:
A student developed and/or implemented a program within the CSUCI community utilizing academic, co-curricular, or vocational learning and experience that:
Improved a service or program at CSUCI through applied learning and significant time and skill investment that improved the quality of life or experience for students
Identified a community need and worked with a community partner to meet that need through applied learning and significant time and skill investment
Improved the programmatic or service delivery for a social service program
To nominate or self-nominate, please visit CI Sync and submit the necessary materials here: President's Award for Student Innovation Nomination
All materials are due by 5 p.m. on Wednesday May 31, 2023.
Eligibility:
Good Academic and Conduct Standing
Must have completed at least one semester of coursework at CSUCI
Must be a returning student in the Fall 2023 semester
Can be nominated by someone or self-nominated
Recognition of Recipient:
The recipient will be recognized by the President at the Fall Convocation on Thursday, Aug. 17 and will have an opportunity to address the campus as part of this event. The recipient will also have an individual meeting with the President.
Should you have any questions, please contact Helen Alatorre, Executive Director, Associated Students Inc. at helen.alatorre@csuci.edu or 805-437-1629.
The University encourages people with disabilities to participate in its programs, events and activities. If you anticipate needing any type of accommodation or have questions about the physical access provided, please contact the respective area below as soon as possible, but no later than seven business days prior to the event/activity: 
CSUCI Students
Disability Accommodations & Support Services: accommodations@csuci.edu
CSUCI Employees
Christine Girardot: christine.girardot@csuci.edu
Members of the Public
Title IX & Inclusion: titleix@csuci.edu