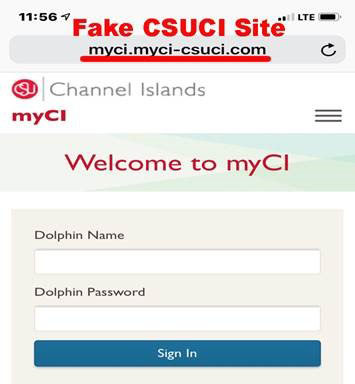 Aug. 28, 2019 - A recent spate of phishing emails has targeted students' financial aid refunds by attempting to lure students to login to a fake University web portal, similar to myCI, for the purpose of accessing financial aid information. Due to the serious nature of this phishing attempt, the University has temporarily disabled all direct deposit bank information from student accounts. Students who anticipate receiving a refund will be mailed a check to the mailing address on file. 
It is important to note that CSUCI data has not been breached, this was a phishing campaign targeting student financial aid. As a precaution, ITS has deleted the phishing email from all student inboxes and reset the passwords of all students who received this phishing email to ensure no malicious activity is actively in progress.
Please visit the ITS Information Security website to view the full details of this phishing attempt and how you can further protect your personal data online.
If you have any questions regarding this issue, please contact the ITS Solution Center at 805-437-8552 or solutioncenter@csuci.edu, or the Information Security Team at infosec@csuci.edu.