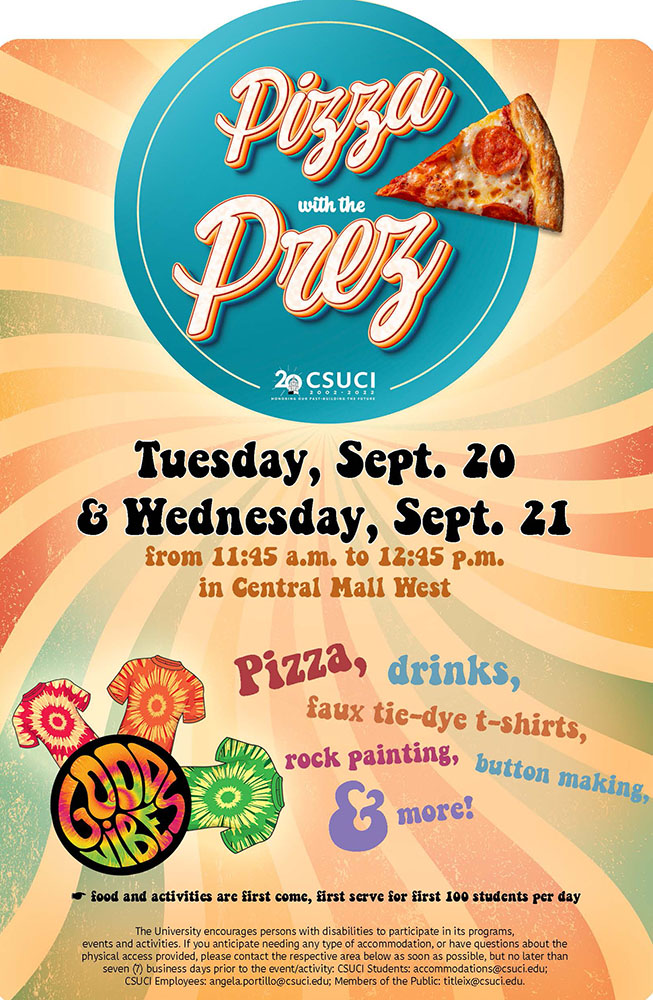 Sept. 19, 2022 - Calling all dolphins - join us this week on Tuesday Wednesday for Pizza with the Prez! 
Stop by Central Mall West Sept. 20 and 21* from 11:45 a.m. to 12:45 p.m. each day for some pizza, soft drinks, faux tie-dye t-shirts, rock painting, button-making, and more! 
This is a great opportunity to come together, have some fun, and spend some time with President Yao. We'd love to see you there!
For more information contact csuci.news@csuci.edu. 
*Food and activities are first come, first serve for the first 100 students per day
The University encourages persons with disabilities to participate in its programs, events and activities. If you anticipate needing any type of accommodation, or have questions about the physical access provided, please contact the respective area below as soon as possible, but no later than seven (7) business days prior to the event/activity: 
CSUCI Students
Disability Accommodations & Support Services: accommodations@csuci.edu
CSUCI Employees
Human Resources: angela.portillo@csuci.edu
Members of the Public
Title IX & Inclusion: titleix@csuci.edu