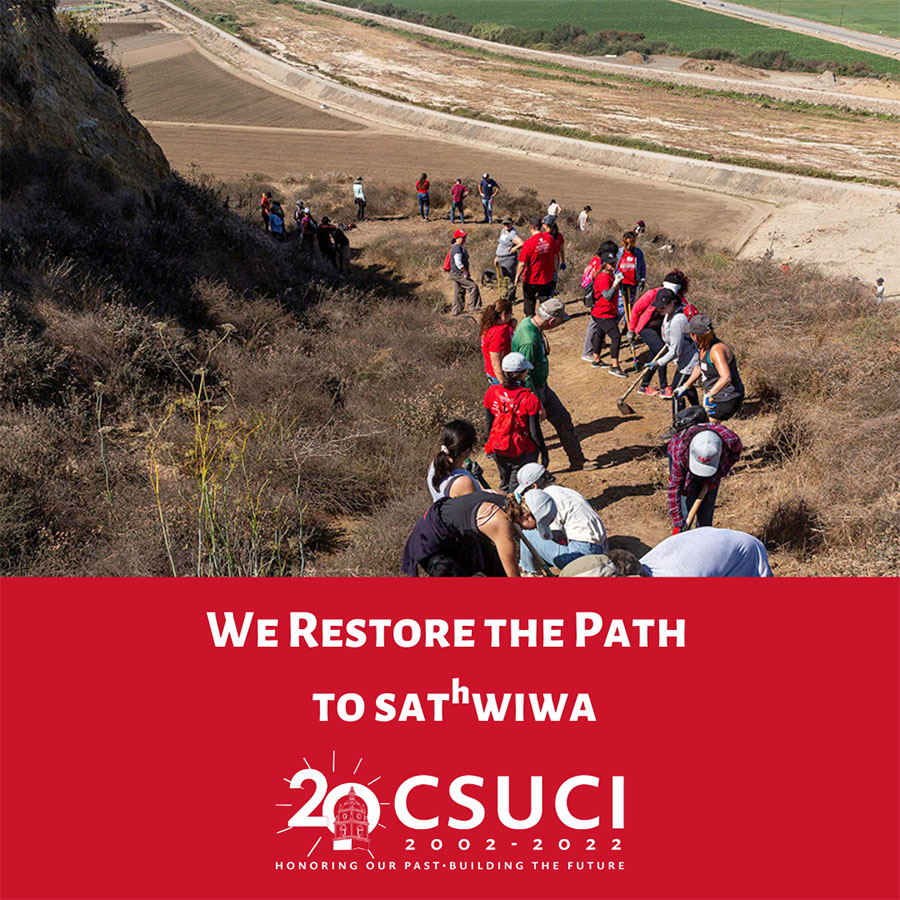 Sept. 21, 2022 - CSU Channel Islands invites students, faculty, staff, and alumni to roll up their sleeves and participate in the annual hukisunupahani lo'ka'aliyaš 'isatʰwiwa (we restore the path to satʰwiwa) event on Saturday, Oct. 1 from 8 to 11:30 a.m.

Located on the main campus, satʰwiwa (Round Mountain) is sacred to the Chumash people, where ceremonies were conducted in the past and will be again. The continuing work to restore this place of cultural significance includes trail restoration work to provide erosion control measures, restore native plants, and aid in trail identification and educational signage.

Participants can choose from three different ways to be involved:
Trail restoration: We will be clearing brush and removing root balls. All restoration effort is physical work, and all volunteers will be using hand tools.
Chumash storytelling
The CSUCI Campus Archaeology Team: At this station, you can learn about local organizations, what they do for the campus and regional communities, and how to get involved.
There will be an opportunity to change sites with two separate shifts, after approximately one hour.
Tools, refreshments, and lunch will be provided. We highly encourage carpooling as parking is LIMITED.
Please register online if you plan to attend.
For more information contact Pilar Pacheco at pilar.pacheco@csuci.edu.
The University encourages persons with disabilities to participate in its programs, events and activities. If you anticipate needing any type of accommodation, or have questions about the physical access provided, please contact the respective area below as soon as possible, but no later than seven (7) business days prior to the event/activity: 
CSUCI Students
Disability Accommodations & Support Services: accommodations@csuci.edu
CSUCI Employees
Human Resources: angela.portillo@csuci.edu
Members of the Public