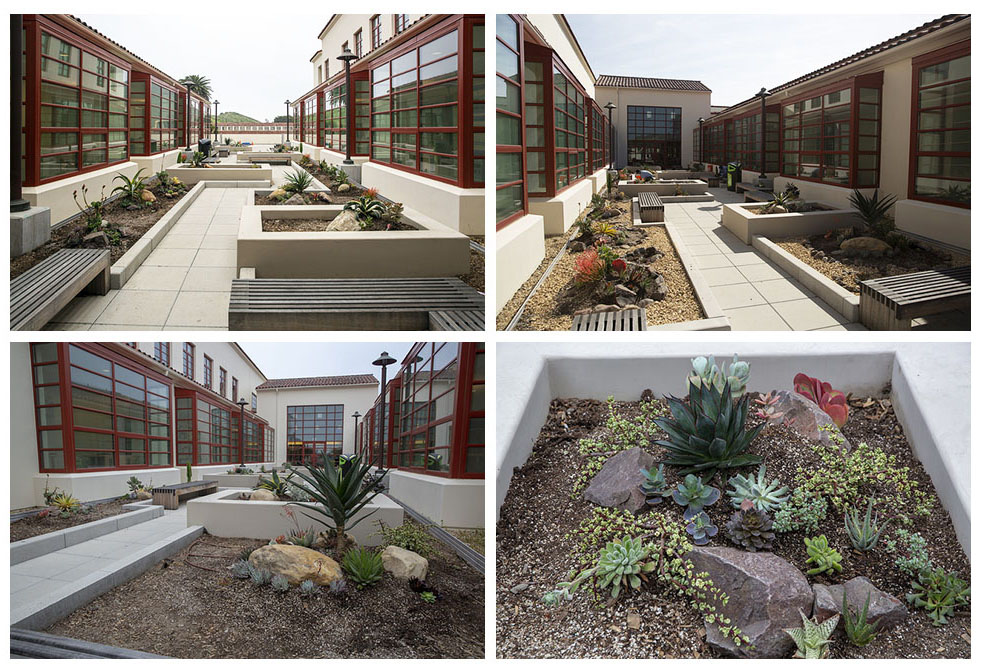 April 23, 2018 –  Recently a group of students from CHEM 344, Energy and Society, collaborated with faculty and Grounds Crew staff to install a pollinator/sustainable garden on the second floor of Sierra Hall. Pollinator gardens promote a healthy eco-system and attract a diversity of pollinators, like bees, butterflies and moths.
Designed by Garden Specialists Ricky Medrano and Juan Cardenas, the new garden at Sierra Hall features more than 30 species of succulents and extremely drought-tolerant plants that have been planted in native clay soil, saving on water and maintenance. Installing the garden was done in-house, a true community accomplishment with involvement from students, faculty and staff.
The theme of sustainability was evident throughout the project: existing boulder and rubble was used instead of purchasing imported rock, plant cuttings were transplanted to the garden, cutting down on the purchase of new plants, and reclaimed water is being used with a drip irrigation system to minimize water use. Professor Safa Khan, Ph.D., secured IRA (Institutionally Related Activities) funding for the costs associated with the garden.
The campus community is encouraged to enjoy this updated, relaxing outdoor space on the second floor of Sierra Hall.