Camarillo, Calif., Aug. 16, 2017 — Almost 150 new transfer and first year students joining CSU Channel Islands (CSUCI) in the fall will get a jump on their community service with a graffiti abatement event from 8 a.m. to 2 p.m. on Saturday, Aug. 26.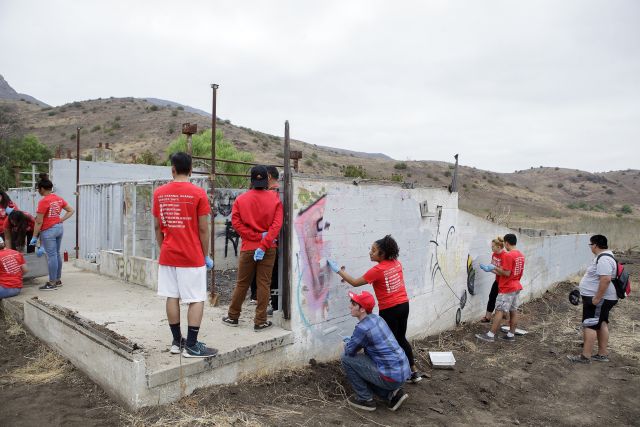 This year's CSUCI Student Service Summit has grown to include Ventura County Supervisor John Zaragoza, County of Ventura, City of Oxnard Police Department (OPD), Gold Coast Transit, and Martin Boos of Oxnard, a regular volunteer for causes involving the beautification of the city.
Coordinator of New Student Orientation Ariana Robles said the Student Service Summit (SSS) has never had this much involvement from the community, or as many student volunteers since the SSS began five years ago. Usually 80-100 students volunteer and one to three community organizations or representatives get involved.
"We hope that incoming students gain a sense of campus and community involvement with this event," Robles said. "In addition, we hope they are able to make connections with peers, community members, and the University's tradition of community service."
The day of service will begin at 7 a.m. with cadets from the OPD setting up painting materials along two miles of Oxnard waterway targeted for abatement. After an 8 a.m. continental breakfast at CSUCI, students will receive training in graffiti abatement from the Ventura County Public Works (VCPW) Department.
Gold Coast Transit District donated the use of three buses to transport the 150 student volunteers to the Oxnard work site, where students and volunteers will work from 9:30 to 11:30 a.m. removing debris, vegetation and painting over graffiti in designated water channels. Gatorade and portable restrooms will be provided by VCPW.
The students and volunteers will then return to CSUCI where they will be served lunch and listen to nonprofit organizations from Oxnard discuss ways the first-year students can continue to volunteer their time and earn service credits for their resumes and graduation requirements.
"Great things happen when community members, businesses and the government come together to accomplish a shared goal of preserving the beautification of our beloved community, which benefits us all," Zaragoza said. "We are inspired by the work of our young adult (CSUCI) volunteers and their commitment to civic service."