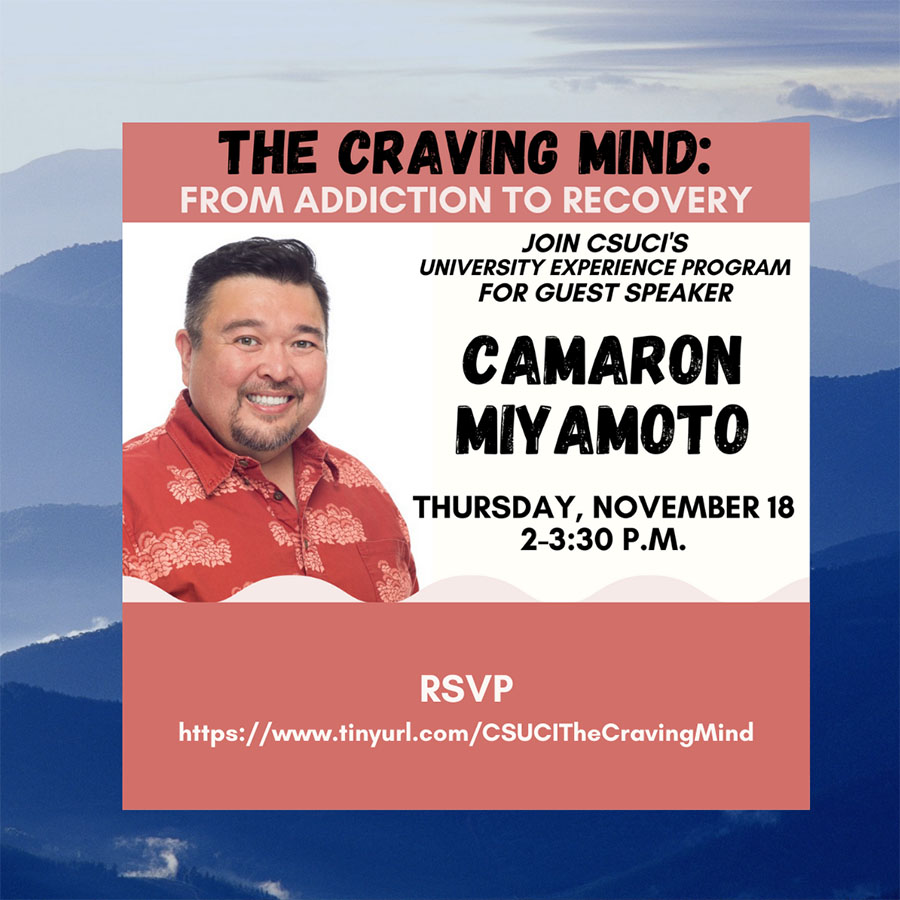 Nov. 15, 2021 - Please join The University Experience Program for "The Craving Mind: From Addiction to Recovery" with University of Hawaii at Manoa faculty member Camaron Miyamoto. The event will take place on Thursday, Nov. 18 at 2 p.m. 
Miyamoto has many years of service in public affairs advocacy and continues to promote the health and well-being of marginalized communities, especially LGBTQ+ and BIPOC populations.
A survivor of sexual assault, domestic violence and addiction, Miyamoto plays an active role in the anti-violence and recovery communities. He is fueled by the belief that we will create a better future through compassion, education, and a steadfast commitment to social justice.
In this presentation, Miyamoto will share information about the medical science and psychology of addiction, along with his personal experience with recovery. We hope you can join us. Please register for the event via Zoom if you plan to attend: https://tinyurl.com/CSUCITheCravingMind. 
For more information contact Venessa Griffith at venessa.griffith@csuci.edu. 
The University encourages persons with disabilities to participate in its programs, events and activities. If you anticipate needing any type of accommodation, or have questions about the physical access provided, please contact the respective area below as soon as possible, but no later than seven (7) business days prior to the event/activity:
CSUCI Students
Disability Accommodations & Support Services:accommodations@csuci.edu
CSUCI Employees & Members of the Public
Title IX & Inclusion:titleix@csuci.edu