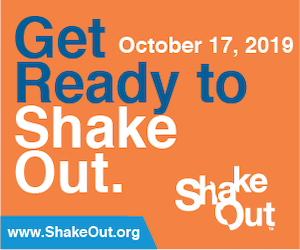 Oct. 7, 2019 - On Thursday, Oct. 17 at 10:17 a.m., get ready to DROP where you are, COVER your head or get under a sturdy desk/table, HOLD ON to something sturdy and stay in place until the shaking stops! This year it is estimated that more than 11 million Californians will participate in the Great California ShakeOut, an annual five-minute drill (no evacuation needed) part of a worldwide earthquake exercise.
To prepare for this and other major events, CSUCI conducts regular building evacuation drills to test and verify fire and evacuation notification alarms. In the event of a real earthquake emergency, occupants would DROP, COVER & HOLD ON and then immediately evacuate their building with the assistance of their Building Marshals who are appointed by the University to assist building occupants in the event of an emergency.
Building Marshals and the campus community are encouraged to participate in the earthquake drill. There are also many creative and fun ways to participate in addition to the "DROP, COVER & HOLD ON drill by visiting: Great California Shakeout for more details and ideas.
For more information visit CSUCI's Emergency Preparedness website or contact Maggie Tougas at 805-437-3765 or maggie.tougas@csuci.edu.