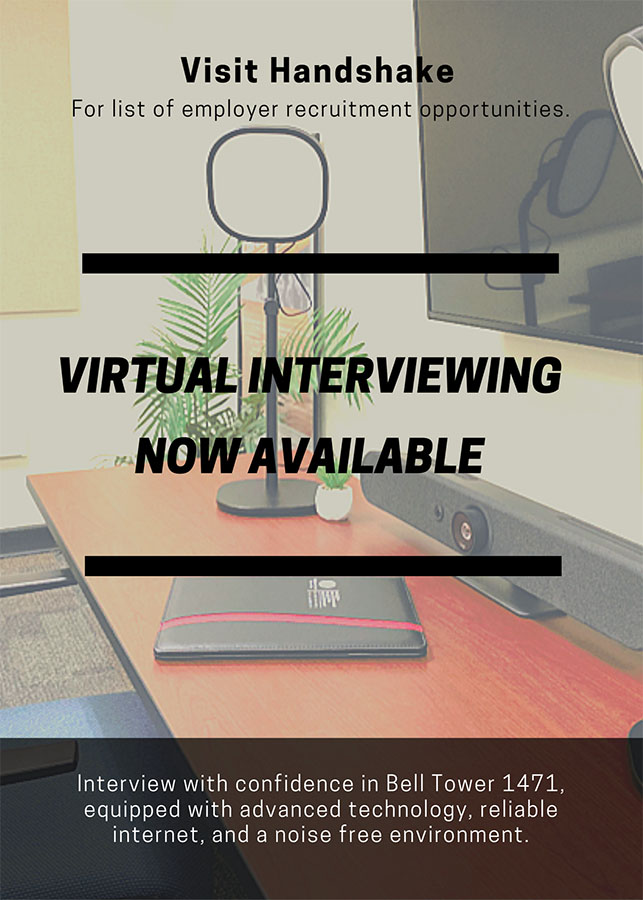 July 19, 2022 - Dolphins, did you know that 81% of talent professionals agree virtual recruiting will continue post-COVID, and 70% indicate it will be the new standard of recruiting?

Remove the worry of reliable internet, a good webcam, microphone, and a space where noise and other distractions will not hamper the ability to have an effective job interview. Virtual Interviewing can be found in Bell Tower 1471 thanks to Career Development an Alumni Engagement.

Courtesy of an award given by the California State University Innovation Minigrant, ITS and Career Development and Alumni Engagement have created a space that will allow students access to essential technology equipment to engage in virtual recruiting opportunities with local and regional employers (e.g., 1:1 virtual interviews, virtual employer information sessions, virtual employer group interviews; mock interview preparation).

We are poised to meet the workforce and innovation needs of our region. To accomplish this goal, we need our Dolphins to be career ready. With access to advanced technology, our students are equipped with critical career readiness competencies including critical thinking, problem-solving, digital technology, and career management to engage in virtual recruiting opportunities with employer partners.

Visit Handshake via your myCi portal to view employer recruitment opportunities.
For more information contact Career Services at career.services@csuci.edu. 
The University encourages persons with disabilities to participate in its programs, events and activities. If you anticipate needing any type of accommodation, or have questions about the physical access provided, please contact the respective area below as soon as possible, but no later than seven (7) business days prior to the event/activity: 
CSUCI Students
Disability Accommodations & Support Services: accommodations@csuci.edu
CSUCI Employees
Human Resources: angela.portillo@csuci.edu
Members of the Public
Title IX & Inclusion: titleix@csuci.edu