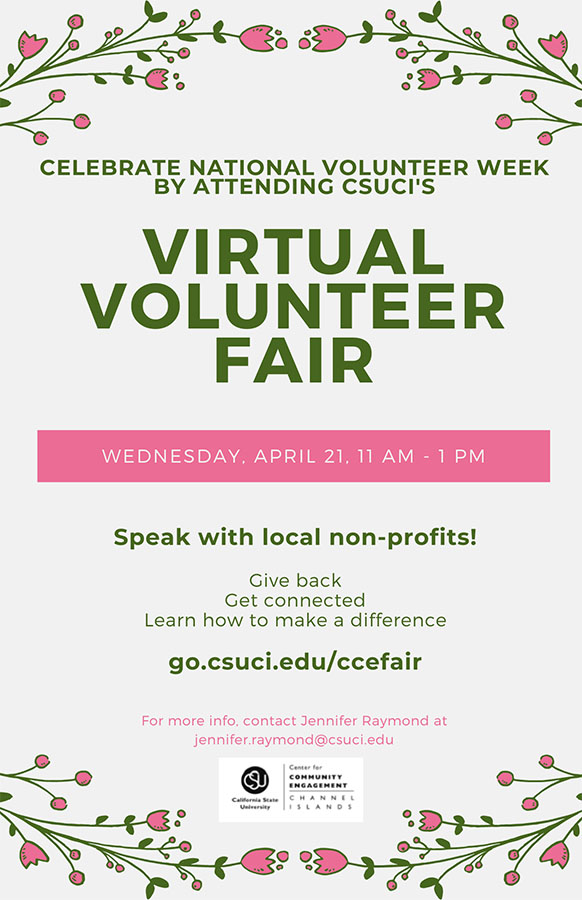 Apr. 5, 2021 - CSU Channel Islands and the Center for Community Engagement (CCE) invite you to participate in the CSU-wide Virtual Volunteer Fair to recognize National Volunteer Week, April 18-24.
The purpose of this event is threefold:
To equip, enlist, and encourage CSU students to commit a portion of their time to serve others throughout the global pandemic;
Bring awareness to various nonprofit organizations, their volunteer opportunities, and the communities they serve; and
Provide a space for nonprofits to share their mission and recruit potential volunteers.
The CCE will be hosting a Virtual Volunteer Fair on April 21 from 11 a.m. to 1 p.m. for CSUCI students and the community to connect with nonprofit organizations in the surrounding area! Students, faculty, and community members will have the opportunity to speak with your organizations' representatives, learn about the organization's mission, services, and available volunteer opportunities.
This event is free and open to all! Visit go.csuci.edu/ccefair for additional information, including the Zoom link.

For more information, contact Jennifer Raymond at jennifer.raymond@csuci.edu.