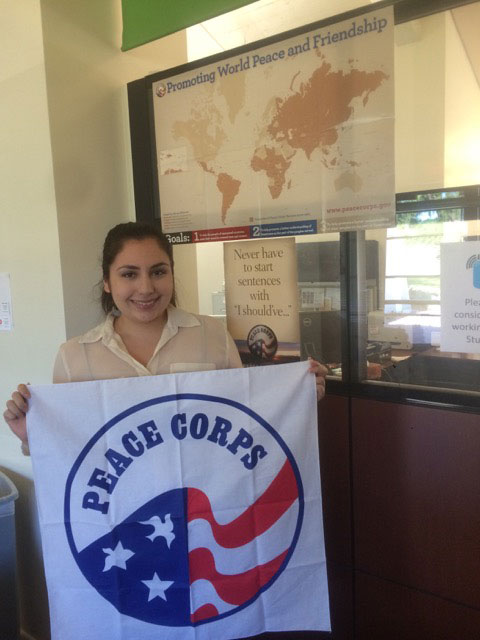 Lisa Marie Clark
CI alumnus Lisa Marie Clark is preparing to travel halfway around the world in fall 2016 and live for 27 months with no running water or electricity, and she can't wait. That's because Clark, 21, will be living her dream of volunteering for the Peace Corps from Sept. 6, 2016 through Dec. 2018.
Clark, who graduated in Dec. 2015 with a double major in Political Science and Communication, will be living among villagers in the West African nation of Cameroon, educating them about health.
"I'll be focusing on child and maternal health as well as malaria and HIV/AIDS projects," she said. "The Peace Corps wants volunteers to focus on community organizing, to reach out and educate people about these community health issues."
Clark said her journey to becoming a Peace Corps volunteer started with a class she took from Political Science Lecturer Christopher Scholl, Ph.D., who talked about his own experiences as a Peace Corps volunteer to his students.
Clark had never considered becoming a Peace Corps volunteer herself until Scholl shared what the experience was actually like. Then, he invited Peace Corps area representative Ty Manning to speak to the class and Clark was hooked.
"He served as a health volunteer in Peru. One of his project assignments was working with women and youth," Clark said. "It went hand in hand with my career aspirations to work on an international level in women's health."
Clark had developed a keen interest in Planned Parenthood and other women's health issues while in college, so she talked to Manning about becoming a Peace Corps Campus Ambassador. Manning was happy to help her.
"Lisa Marie Clark had extensive volunteering and training experience in health education, which made her a great fit for our Community Health Agent assignment in Cameroon," Manning said. "We also look for emotional maturity, flexibility, adaptability and cultural awareness and sensitivity. Lisa demonstrated that she is highly adept in all of those areas."
Cameroon's Ministry of Public Health reported that about 9,000 women die in childbirth every year in Cameroon, a statistic health officials resolved to reduce. Volunteers with a passion for women's health were needed in Cameroon so Clark seemed like a perfect fit.
"On an international level there is a tremendous need for progress to be made," Clark said. "I'm only going to be there for two years, but if I'm able to change the mind of just one young boy so he understands that gender equality is something positive, or if I can just get people to start thinking about the concept, it's one step closer to where women deserve to be."
When Clark got the news this spring that she had been accepted, she contacted Scholl. He was thrilled for her and the adventure that lies ahead.
"The Peace Corps will offer her the opportunity to not just be immersed in another culture, but become a member of a new community. It is impossible to say how this will impact her, but it will have an impact," Scholl said. "She will see the world through the eyes of people living in an entirely different culture than the US. The smells, sounds, fears, desires, challenges, humor will all be different. It takes a nimble mind and personality to retain ourselves yet accept and flourish with others."
Scholl said Clark will bring a bit of California to Cameroon and will bring a bit of Cameroon back with her. "I'm already looking forward to our conversations when she returns," Scholl said.