Heather Castillo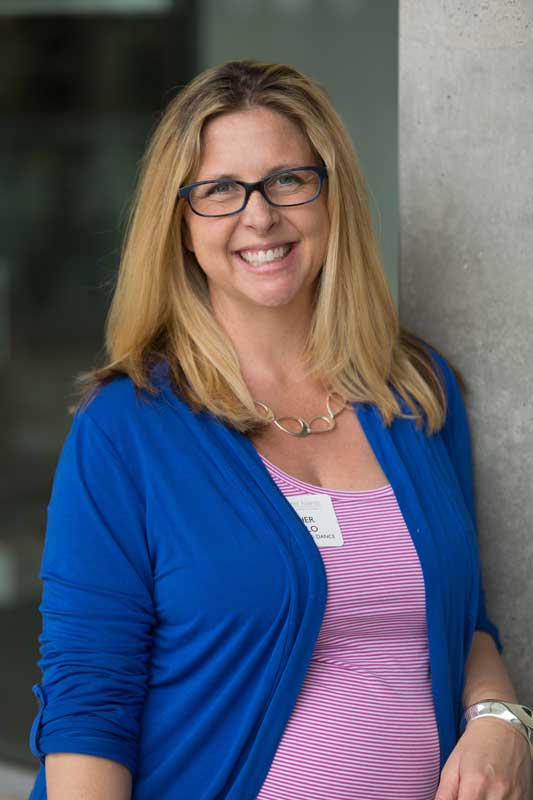 Everybody dances. CI Assistant Professor of Performing Arts Heather Castillo believes we all dance every day, when we walk, use our hands to talk, or use our thumbs to text.
"We are all dancers and we all have a beautiful individual vocabulary," said Castillo, who teaches dance through CI's Performing Arts program.
Castillo loves to help students discover themselves through movement, whether they plan to pursue a professional dance career or simply want to test their talent.
"I equally love the student who has never danced before," Castillo said. "Someone who is walking into the classroom, I call it a dance lab, for the first time. I want to introduce them to themselves in a way they didn't know existed before."
Castillo teaches dance at CI, is involved in an innovative dance research project, and is the force behind the popular "Arts Under the Stars," which is held each spring.
"It's a campus-integrated event where students, staff, and faculty can bring their research and creative ideas and they can be brought to life through a collaborative multimedia experience," Castillo said.
Whether it's math, science, the humanities or computer science, Castillo and a team of student collaborators create a presentation of dance, song, theater, video and anything else the team can dream up. The show usually draws about 700 people.
Her own love affair with dance began early. Castillo's mother put her in dance classes when she was a toddler and she loved it.
"I would have friends when I was eight or nine and they'd come by and say 'Does Heather want to play?' and I was practicing," she said, sweeping one arm in front of her. "I couldn't be bothered."
Castillo grew up in Santa Clarita, so it was a short drive to Los Angeles to study with distinguished profiles in choreography including Doug Caldwell, Joe Tremaine and Marguerite Derricks. At 18, she had an agent.
Castillo spent 10 years dancing professionally for movies, industrial shows, Disney and Universal Studios, to name a few venues. One day, when she was 28, Castillo landed from a jump and broke her leg, badly. "I was done dancing professionally," she said.
So, she started working with a high school dance team and discovered she loved teaching. She wanted to teach at a college level, so she earned her Masters of Fine Arts at University of California, Irvine, and began to teach, arriving at CI seven years ago.
Performing Arts senior Emilee Grochowski, 21, joined Castillo's class with little dance experience. "I had a background in musical theater, tumbling and cheerleading," she said. "I never had dance except those ballet tap combos when you were four."
With Castillo's coaching, Grochowski learned she could dance and in fact fell in love with modern dance.
"Dance has this connotation that it's only for a certain kind of person," Grochowski said. "That it's only for people who are tall enough or short enough or built a certain way. She taught us dance is for everyone."
When Castillo isn't working with students, she is collaborating with Tracey Bonner, another dance teacher at the University of Northern Kentucky, to collect oral histories of dancers and choreographers in commercial dance.
Commercial dance is any type of dance linked with a profit, which would be cruise ships, Broadway, movies and commercials,
"I will argue that commercial dance is the most visible form of dance in the United States, yet historically underrepresented and marginalized in historic publications and dance research," Castillo said.
Castillo and Bonner plan to input all of the oral histories in a searchable database called the Commercial Dance Heritage Alliance.
Her life moves at a jitterbug pace, but when it's connected to dance, it's nothing short of magic.
"When you dance, everything else goes away," she said. "Nothing asks you to be more in touch with every fiber of your being, and yet to be unaware and let go at the same time."