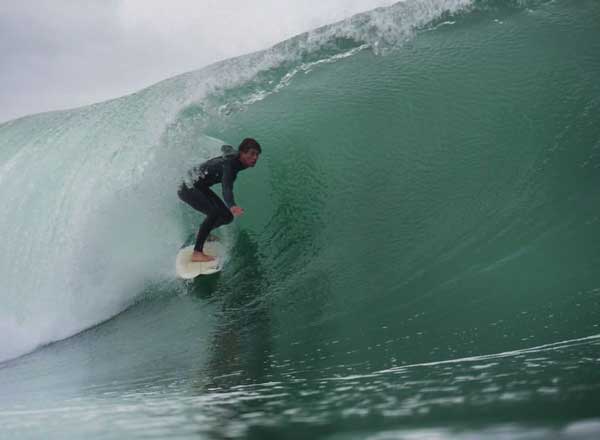 Austin Finley
Class of 2016 Art major and lifelong surfer Austin Finley, 22, will represent CSU Channel Islands (CI) in the National Scholastic Surfing Association (NSSA) National Championships in June after taking the state title in the NSSA California State Championship.
Finley and fellow CI Surf Club member Chase Stavron took top honors in the main divisions, which took place March 4 and 5 in San Onofre, Calif. Finley and Chase competed against approximately 180 other surfers.
Finley, the CI Surf Club team captain, took first place in the College Men's Division and Stavron placed fourth in the College Men's Longboard division. The two CI surfers competed against several other colleges in their division, including the University of Southern California, UC Santa Barbara, UC San Diego and San Diego State University.
Finley is elated with the win, which came after what he described as a "rough season."
"It was pretty frustrating because I had a lot of success two years prior. I was in the zone," he said. "Then, this year I struggled all year, and finally got past Round Two at the competition."
Finley got his groove back in a big way in what he said was a last minute victory. Going into the last round, Finley and the other five final competitors were virtually tied, so it was tense.
"During the finals, the tide got a little higher so the waves weren't coming in as much," Finley said. "It was anyone's game." Finley paddled back out onto a relatively flat ocean. Then he saw it. Just one wave.
"I was paddling for it and somebody else behind me was, too. Then he realized he wasn't going to get it. It was my wave," Finley said. "I surfed it all the way in. I stood up on the beach and threw my hands up and said: 'Yes!' It was something special."
Finley donated his trophy to CI's Campus Recreation within the Wellness & Athletics department of the Division of Student Affairs.
"I'm just very proud of them," said Assistant Director of Campus Recreation Nathan Avery. "It's not about winning – it's about what they went through to get to where they are. The entire campus should be proud."
Finley will compete in the NSSA Nationals at Salt Creek in Dana Point, Calif., on June 11-13. He will be up against college teams from both the East and West coasts.