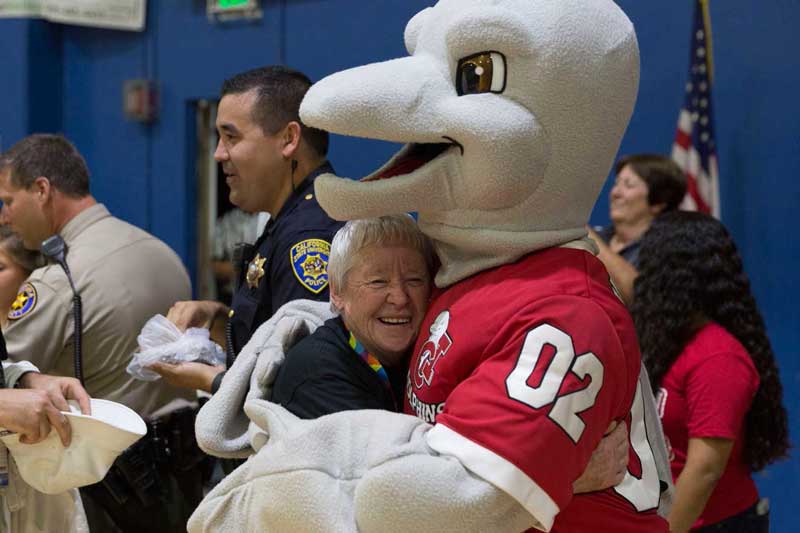 Special Olympics
Special Olympics athletes from opposite sides of the globe shared CI residence halls during their visit to Camarillo July 21 through 24. Camarillo was one of four Ventura County cities to act as a Host Town for athletes competing in the Special Olympics World Games Los Angeles 2015. CI supported Camarillo as the city hosted 38 athletes from Saudi Arabia and 55 from New Zealand.
"We were delighted to participate in the Special Olympics World Games," said CI President Richard Rush. "Our commitment to access and opportunity for all was clearly celebrated in these participants. We are proud to support the celebration of the human spirit."
Although logistic hurdles caused both delegations to arrive at least six hours late, the New Zealand athletes were greeted with cheers, an honor guard of CI police and Ventura County Sheriff's Deputies.
The Saudi Arabia delegation pulled up at 1 a.m. to a warm, if quieter welcome. After a meal and a good night's sleep, the athletes, coaches and other delegates headed over to the Camarillo Airport Museum the next day for lunch. There, an international group of women pilots—the Ninety-Nines, Inc.—treated the visitors to lunch, a tour of the World War II-era museum and a fly-over display of vintage aircraft. Both the New Zealand and Saudi athletes popped on World War II helmets and posed behind a vintage bazooka while teammates took photos.
The language barrier between the two delegations disappeared whenever anybody pulled out a Smart Phone. Any cell phone held at arms' length would cue Saudi Arabia and New Zealand athletes to loop arms around one another's shoulders and smile for the camera.
New Zealand Delegation Head Max Brooking said language was hardly a barrier during all of the activities the City of Camarillo had planned for the athletes, including an appearance at a Camarillo City Council meeting and a dinner at the Camarillo Church of Latter-Day Saints. "At the dinner last night they danced together and sang together and we had a rugby scrum together," Brooking said.
On Thursday night before their departure for Los Angeles, the athletes played an exhibition basketball game at the Camarillo Boys and Girls Club, drawing a crowd of about 150. The game was close, but Saudi Arabia triumphed, 43 to 34.
On Friday, July 24, CI treated the athletes to a goodbye reception in the Tree House Courtyard with refreshments and traditional dances from both delegations. Then, the teams boarded their buses for Los Angeles to compete in the World Games, which ran from July 25 to Aug. 2. "I'd love to win, but if I don't win it doesn't matter because I've tried my hardest," said New Zealand dressage athlete Chelsea Thorn. "If I win, I thank God. I lose, I thank God," said Saudi runner Thamer Ahmed.