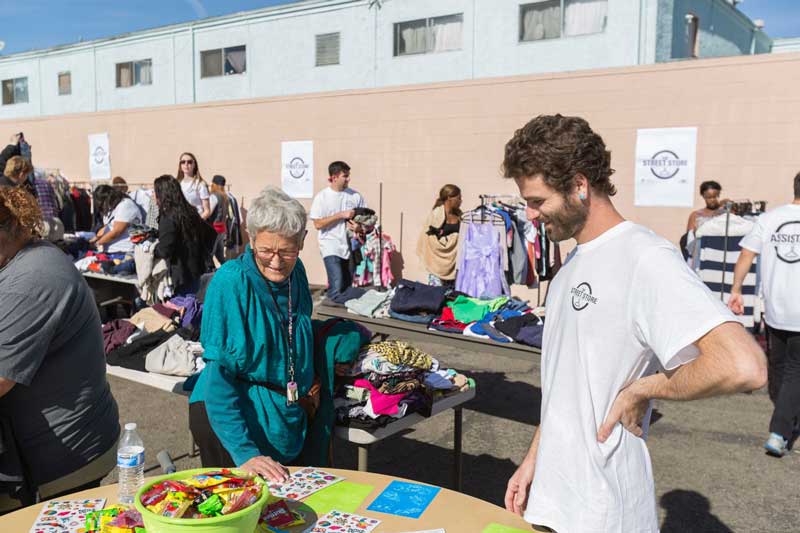 Communication
With the courtesy of a clothing salesperson in any Saks Fifth Avenue or Bloomingdales, CI Communication majors Jessica McGinty and Allison D'Andrea re-stacked folded shirts and smiled at anyone pulling an outfit off of a clothing rack.
CI undergraduate and alumni volunteers offered a "May I help you?" or a "That looks good on you," as people and families in need shopped at "The Street Store," a project organized by students in Assistant Professor of Communication Nien-Tsu Chen's Health Communication class.
"The Street Store" (www.thestreetstore.org) is a worldwide non-profit program in which volunteers solicit clothing donations, then open up a temporary "store" in which those in need can browse through the donated clothing, try on garments in private dressing rooms, then select what they would like to keep free of charge.
Volunteers act as "clerks," offering to help guests find certain items or keeping the clothing in tasteful displays on hangers or folded on tables.
"We're getting people to donate clothing and shoes that we will display on event day," McGinty said before the event. "We will set up a store where the homeless or anybody in need can come and 'shop' in a dignified way without having to dig through trash cans or beg or go without."
Throughout the month of October, students collected hundreds of dresses, trousers, shirts, blouses, belts, shoes and other items through a donation site in Ojai Hall on the CI campus.
Then, on Nov. 18, the group arranged all of the garments, shoes and accessories on racks and tables outside the B.A. Huggins Community Outreach Center in Oxnard, which is linked with St. Paul Baptist Church, also in Oxnard.
Families began arriving immediately, and the CI Communication students began learning about just who is living on the edge.
"I learned just how many different situations people are in," said CI senior Allison D'Andrea. "Initially, we were just expecting people who are homeless, and it turned out to be families."
Among those pulling out clothes for children was Lucy Lazcano, 42, who lost her job recently. "My husband is the only one working," Lazcano said. "I have four children. I can't afford a $30 shirt."
"Customers" were limited to five items, but McGinty bent the rules more than once. "One man asked me, 'Can I take six items?' Five is the limit. He had jackets for himself and pants for his son," McGinty said. "He's a veteran and now he's a single father. I said 'Yes, yes, please, take what you need.'"
Learning about other people and situations while offering a community service is the meaning of the term "service learning," a concept at the heart of CI. Center for Community Engagement Managing Director Pilar Pacheco pitched the idea of The Street Store to the health communication class because she thought this was an ideal service learning project. It exceeded her expectations.
"This is an opportunity for students to apply their in-class learning to making a meaningful difference in the community," she said.