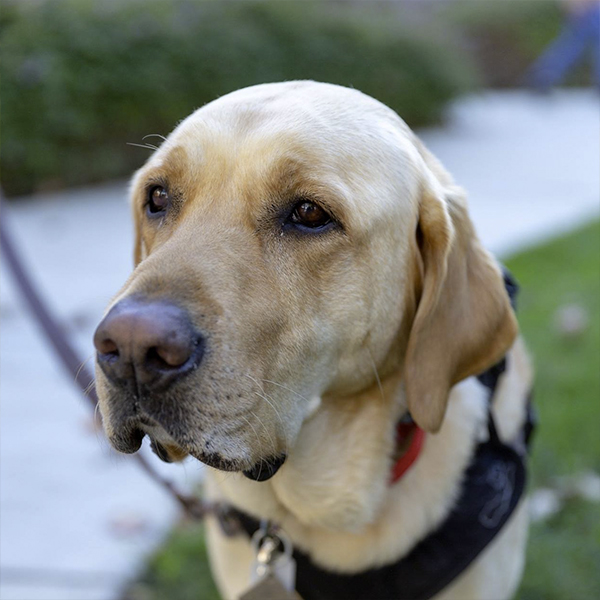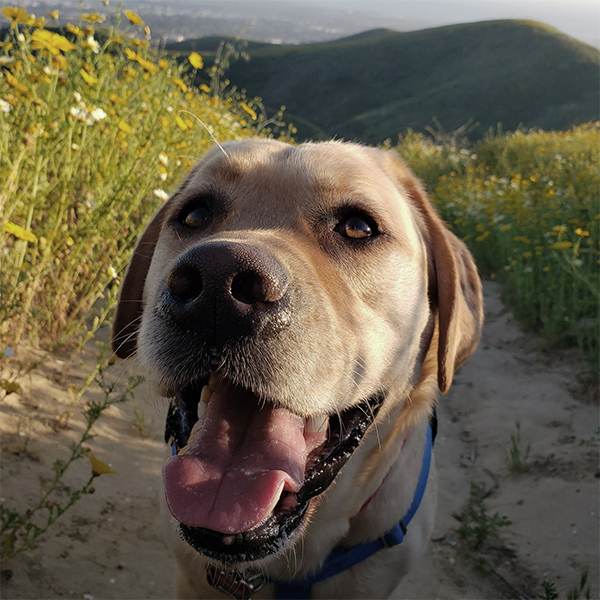 #WeAreStillHere
By Pamela Dean
Jay Derrico holds the camera and narrates while the big yellow lab keeps his nose to the ground eagerly pulling CSUCI business major Alex Alpirez along.
Derrico, Assistant Director of Veterans Affairs, is hosting a virtual walk with Doc, one of CSUCI's two campus therapy dogs. Alpirez, who works in the Veterans Resource Center, is wrangling the dog while keeping a safe six feet apart from Derrico. Several students join the walk via Zoom, happy to see the canine who is one of the most popular members of the campus community.
Doc and his fellow four-legged therapist Lonnie have been making these weekly virtual "house calls" while the University is operating remotely during the COVID-19 pandemic. Students are invited to join for a little dog therapy stress relief.
But the walks serve to not just connect students with the beloved animals, but to each other as well.
Derrico uses the time as an opportunity to check in with students who utilize the Veterans Resource Center and see how they are adjusting to the switch to online learning. According to Derrico, many veterans are used to leading highly structured lives. Even under normal circumstances college can be a challenge because it requires a lot of self-direction. The switch to online learning makes it even tougher.
"We really wanted to connect with our students especially those who have walked Doc in the past," says Derrico. "I'm also doing coffee study breaks with students. They all know each other from the Veterans Resource Center and its good for them to touch base with each other."
During the walks students engage in light-hearted banter, discussing how difficult the adjustment to physical distancing has been, and catching up on each other's lives. One staffer even participated along with her young son.
It's clear the connection is helping.
"I joined the call not just to get a peek at Doc, but I really miss the energy of the Veterans Center," theater arts major Mike Biscoe tells the group gathered on one of the calls. "I miss Doc of course, but I miss all of your faces as well. You are all part of the community that we formed there. I look forward to the day when we can all see each other again."
Doc normally spends his days hanging out in the Veterans Resource Center, providing a calming presence for stressed students.
Lonnie, also a yellow lab, is usually found in the residence halls where his job is to be available for belly rubs, pats on the head and games of tug-o-war with anyone who needs a break and a little stress relief therapy.
Before the pandemic, the dogs could often be seen on one of their numerous daily walks around campus where they were stopped by students, faculty and staff alike for pets and ear rubs.
But like most staff, both are now staying at home with their handlers. The change hasn't been easy for the dogs either. Both are highly social animals, used to getting lots of attention every day from a wide variety of people.
"This has been an adjustment for him," says Derrico. "He just mopes."
"The first few weeks he struggled and really missed the students and campus community," adds Tanya Yancheson, Lonnie's handler. "He gets really excited when he hears people talk to him on Zoom meetings and he is going to be over the moon once he gets to return and start mingling with everyone again."
Those interested in joining the dogs and their handlers on a virtual walk can find their schedules on Instagram at ci_housing or csuci_veterans or on Facebook at CSUChannelIslandsStudentVeterans or CI Housing & Residential Education.