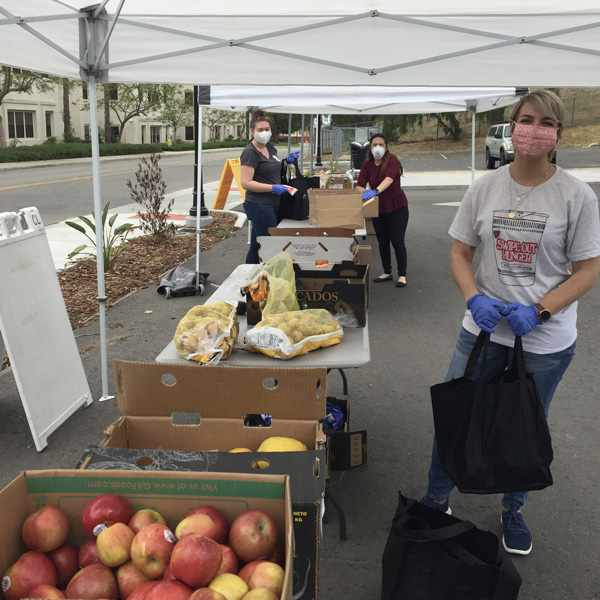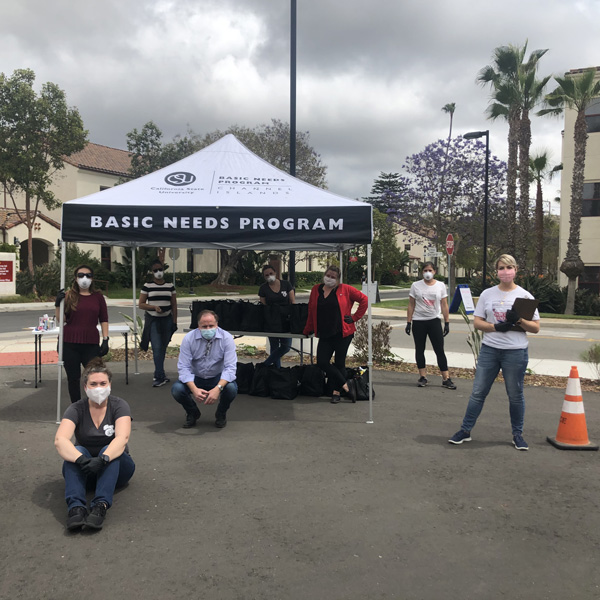 #WeAreStillHere
by Pamela Dean
Even in the best of times, CSUCI's Dolphin Pantry is an essential resource for many students who cannot afford groceries. With the COVID-19 pandemic causing many to lose their jobs, the food pantry is more essential than ever.
But the pantry had to close its doors when the University suspended all non-essential on-campus functions and implemented virtual learning.
"We have received a record number of basic needs referrals since the shelter in place order went into effect in March," said Chelsee Bente, Associate Dean of Students. "We surveyed students who were regularly accessing the Dolphin Pantry pre-COVID-19 and had an overwhelming number indicate they would come to campus if we were to reopen."
But the Dolphin Pantry's small size and tight location in Arroyo Hall made social distancing within it nearly impossible to implement.
Bente and her team came up with a plan to safely continue to distribute food and basic hygiene items to students who sorely need them.
"Rather than having students walk in and not be able to maintain social distancing within the Dolphin Pantry space, we determined a drive-through option would be the best solution," explains Bente. "Many pantries have transitioned to this distribution method because it is easier to adhere to social distancing while still providing access."
Beginning in mid-May, Bente and her team began operating the drive-through pantry in lot A5 on Tuesdays from 1:30 to 3:30 p.m. Students drive up and a campus community member puts a bag of groceries in their trunk. For students who are still living on campus or take the bus, the team simply hands the bag to them, while still maintaining a safe distance.
The food is obtained through the University's partnership with Food Share, Ventura County's regional food bank. "As a result, we are not always certain what type of food will be available, explains Bente. "Our hope is to be able to distribute dry goods and fresh produce based on availability. In addition, we have a limited supply of hygienic supplies that we can distribute too."
Bente says the pantry is not able to accept donations at this time, but hopes to be able to do so again in the near future. She expects the drive-through pantry to continue operating until June 30. But this date may be extended or modified in response to state and local directives.