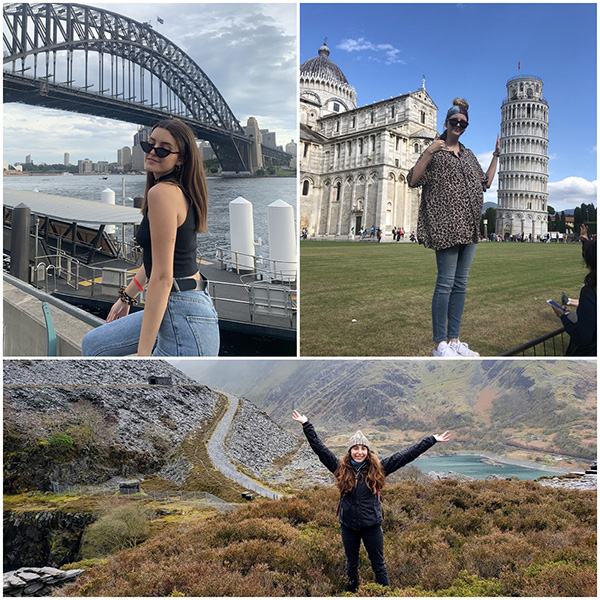 #WeAreStillHere
By Pamela Dean and Courtney Gross
The COVID-19 pandemic brought dreams of an extended study abroad experience to an abrupt halt for more than two dozen CSUCI students.
In all, CSUCI had 25 students studying overseas as part of either the CSU Chancellor's Office International Programs or CSUCI's Exchange Student program.
When the pandemic started heating up in Italy, CSU and CSUCI administrators started making plans to bring the students home.
"We started bringing them home in waves," explained Courtney Gross, the University's Study Abroad Advisor. "Students who were abroad in Italy and South Korea returned first. Then it was a domino effect. Once the decision was made to cancel all programs, we collaborated with the Chancellor's Office and colleagues across campus to ensure the swift and safe return home of all students."
The abrupt end to an experience of a lifetime was a disappointing and unnerving experience for many of the students.
"I had really just started settling in and making amazing friendships, accepting culture shock and adapting to everything that comes with moving to a foreign country," said Kali Lilienthal, a Psychology major studying in Australia. "I had applied to many study abroad programs over the course of two years and I finally had the opportunity to go and experience this when it was suddenly taken away from me. I had a lot of emotions, mostly shock and sadness."
Sara Coy, a Health Sciences major, was seven months into her planned nine-month study abroad experience in the United Kingdom when she was notified she had to return home within four days.
"On March 15, I was informed I had four days to leave the country because my visa would expire on March 19," Coy explained. "The next morning on March 16, I facetimed my parents to tell them I was coming home and booked my plane ticket back to Los Angeles. I was not happy, but I understood why I had to come home early."
Once the students arrived home, the International Programs office established an administrative response team with staff from Academic Advising, the Registrar's Office, Financial Aid, Business and Financial Affairs, the Basic Needs Program, and Counseling and Psychological Services to provide services to the students. The response team proactively contacted returnees to offer assistance, gauge need, and implement solutions catered to each individual student.
According to Gross, some students needed to sign up for health insurance because they no longer had any when their overseas studies ended. Some needed help with expenses to pay for food and lodging while self-quarantining away from their families.
Alex Juarez, an Environmental Science & Resource Management major who is also minoring in Biology was one such student.
"I never thought studying abroad was an option for me because of the costs. Last semester I worked two part-time jobs and an internship aside from my full course of units at CSUCI but I was able to save money and make it happen and it changed my life," said Juarez, who was studying in Norway. "I spent over $1,000 on plane tickets to come back from Europe, which was an unexpected hit to my bank account and not having a place to stay where I could isolate myself was an issue as well. I received assistance which helped pay for a hotel and food for myself after my return.
"I was infinitely grateful for the help my campus was able to provide for me. It's an amazing feeling knowing my university supports me and has no trouble helping their students when in need."
According to Gross, the bulk of the work was not just getting the students home, but getting some returnees reintegrated into CSUCI courses. Each students' situation was different. Some had to work their way into courses already mid-way into the semester with faculty juggling to incorporate these new students at the same time they were figuring out how to move all of their classes online. Hours of Zoom calls and emails between major advisors and faculty led to innovative solutions allowing students to stay on track despite the jarring interruption to their studies.
Some students continued their classes with their overseas program but had to pay careful attention to the time difference between California and the country they were formerly in.
"One of the hardest parts is the time difference between California and Australia. They are a whole day ahead of us so I have to pay a lot of attention to due dates and other important things," said Lilienthal. "I am still in shock that my study abroad experience was cut short. It truly is a bummer especially since I had planned to be there for an entire year and I wasn't able to do half the things I wanted to do. I am learning to cope with it day-by-day and I am very grateful for the time I did get to spend in Sydney and the friends and memories I was able to make, I will cherish for a lifetime."