by Kim Lamb Gregory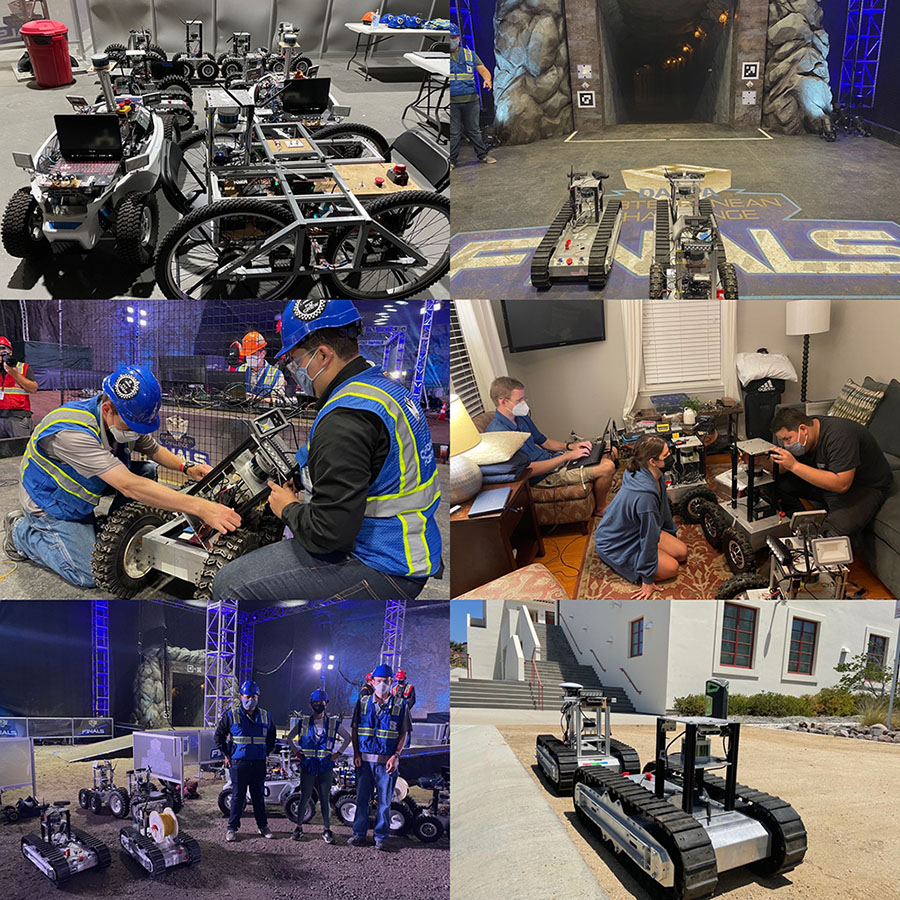 Mentored by Associate Professor of Computer Science Jason Isaacs, Ph.D., three CSU Channel Islands (CSUCI) Mechatronics Engineering students traveled to Kentucky September 21 through 24 to compete in the finals at the Defense Advanced Research Projects Agency (DARPA) Subterranean (SubT) challenge located at the Louisville Mega Cavern.
Mechatronics Engineering seniors Sara Centeno, Andrew Herdering and Hugo Quintero flew to Kentucky with Isaacs and Newbury Park robotics enthusiast Kevin Knoedler, who was competing for the $2 million first prize. Knoedler asked Isaacs and his Mechatronics students to participate. The team's name was "Coordinated Robotics."
The group was one of eight robotics teams from around the world who made the finals of the competition which involved building robots designed to navigate subterranean tunnels and locate artifacts during timed runs.
"The objective of the competition was to send the robots into dark underground areas with lights, cameras and underground sensors in order to make a map of this underground area," Isaacs said.
Coordinated Robotics made the finals by competing in an "urban circuit" in January of 2020—a competition in an urban setting—and sending in several qualifying videos of their robots at work.
Mechatronics Engineering seniors Mishell Beylik and Mariah Stewart along with several first-year Mechatronics students also helped build the robots.
For three days, Herdering, Quintero and Centeno donned hard hats and vests and sent their robots rolling into the cavern over debris, hills, crevasses and rocks in search of various objects that might be found during a subterranean rescue operation such as a cell phone or a hard hat.
DARPA Tactical Technology Office of Public Affairs spokesman Randy Atkins explained that DARPA organizes this competition each year in a quest for cutting edge technology that can be used in subterranean rescues and other situations requiring unmanned remote-controlled vehicles in underground situations.
"DARPA is trying to push the boundaries of what's possible when there is a need to go
into underground environments and explore," Atkins said. "Most of our technology is for the military, but there are other times we need to go into underground environments and help the first responders, such as the soccer team in Thailand that got stuck in the cave. These robots need to act autonomously and search in environments that are dark, muddy and could have noxious gasses. In urban environments, they need to be able to climb stairs."
Centeno, Herdering and Quintero admit they were a little intimidated at the seven other teams who showed up to compete from as far away as Spain, the Czech Republic, Canada, Germany and across the U.S.
"It's exciting but also a little nerve-wracking," Centeno said, just before the first circuit began. "One just hopes it all goes to plan or ever better than the plan. We will be running about five or six robots, and within 30 minutes, our robots have to correctly identify as many artifacts as possible that represent signs of life in a rescue operation."
For example, the robots had to search for a "survivor," a dummy in a safety jacket with a heat signature, a red backpack and a cellphone.
The team worked hard, calibrating robots that hit glitches, strategizing after each circuit, and making each run better.
In the end, the team didn't take home the prize, but did come in seventh, and took home something more valuable: experience.
"I can say that overall, we were happy with our performance," Isaacs said. "I think the students learned a ton from this experience and we had the chance to compete on the same field as some of the top robotics institutions in the world. I am extremely proud of Andrew, Hugo and Sara."