Daisy Navarrete
Health Science

By Karin Grennan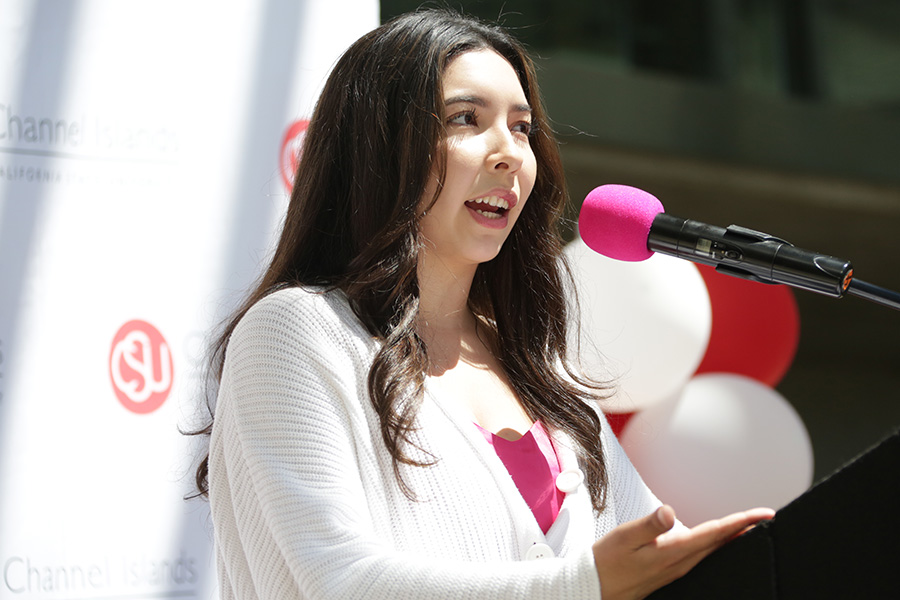 Having grown up with social anxiety, Daisy Navarrete entered CSU Channel Islands as a shy teen who rarely went anywhere. Once classes shifted from the virtual format during the COVID-19 pandemic to in person, it was challenging for her to sit through an entire class.
Three years later, Navarrete is giving speeches, attending countless events and connecting with as many students as she can as Associated Students Inc. Student Government President.
"It's been like a full 180," said Navarrete, a Health Science major who set her sights on becoming an occupational therapist for children in underserved communities while interning at a hospital. "That's something I'm very proud of — my growth."
Navarrete accomplished the turnaround with the help of services at CSUCI. She met several times with a Counseling and Psychological Services clinician, who then referred her to an outside therapist covered by her insurance. Disability Accommodations and Support Services helped her address her classroom issues, for instance providing her with more time to take quizzes.
She learned about these resources and many more as a member of CSUCI's Educational Opportunity Program (EOP), which serves low-income students who are the first generation of their families to attend college.
"That's my family here on campus," Navarrete said. "The EOP counselors have been people I can always go back to and reference for more information. … It's always been helpful to my success here."
Navarrete has made a point of telling other students about services and encouraging them to use them, both while serving as a Peer Mentor for EOP and in her everyday interactions with other students.
"I always bring it up that the support is there," Navarrete said. "There's so many ways you can receive support, and sometimes students don't know that they would qualify for that."
As President, she and Student Government Vice President Jazmin Guajardo have made it a priority to enable more students to access quality support services. They also want to increase students' engagement and sense of belonging, which EOP fostered for both of them. Because Navarrete has lived at home in Oxnard throughout college to save money and help care for her young cousin, it is particularly important to her to encourage other commuter students to attend events and get involved.
"We're very familiar with the campus, resources and student needs," said Navarrete, who worked for the Basic Needs program for a semester. "Sometimes it's like you see the problems, but if you want to make change you have to be part of that change."