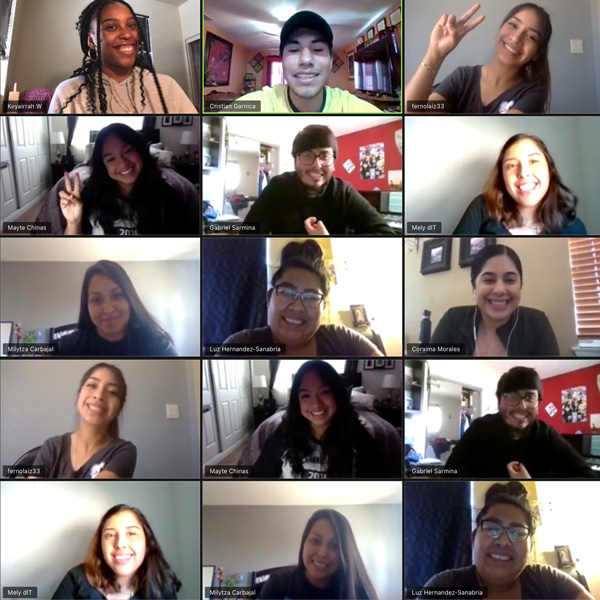 #WeAreStillHere
By Pamela Dean
CSUCI knows students learn best from each other. Whether it's figuring out how to get tutoring for a difficult class, how to become involved in campus activities, or simply an encouraging pat on the back, the wisdom and advice from a peer who has "Been there. Done that." is one of the most effective ways to help an apprehensive or struggling student figure out life on a college campus.
The University's Peer Mentor Ambassador program matches inexperienced students trying to navigate their way through college with more seasoned peers who can help keep them on track to graduation. When the Covid-19 pandemic forced the University to implement distance-only learning, campus leaders knew that mentee students would need more help than ever from their mentors in navigating the new "virtual reality."
"Our peer mentors are students first, so they experienced this transition at the same time and pace as all our students did, but yet they had to switch gears quickly to learn how to best support students in the process," explains Michelle Hasendonckx, Ed.D., Assistant Director for Student Academic Success and Equity Initiatives. "We are seeing peer mentors face the same challenges of adequate study space, time management, financial constraints, and reliable internet connectivity, but they have been incredible navigators and problem solvers for our students."
Peer mentors from across campus quickly accustomed themselves to Zoom and Canvas and started reaching out to students who they hadn't heard from in a while to re-connect them to their courses and provide them with strategies for academic success.
"By reaching out to them virtually, I have been able to provide stress relief and interaction for my mentees," explains biology major and Peer Mentor Ambassador Korenna Estes. "I found with virtual peer mentoring, my mentees are more open and ask for resources available to help. The group Zoom meetings I have held have also provided them with a connection to communicate and meet with other students."
In addition to one-on-one virtual mentoring focused on academic success, the Peer Mentor Ambassadors have been holding virtual social activities to keep students engaged with the University culture. During these online get-togethers, mentees join their mentors to talk about how their semester is going in the virtual environment, followed by a fun activity such as "Can You Guess it or Sing it Better" and "Let's Play Guess What."
"Students really have had a lot of fun participating in these events and even indicated they wished they had lasted longer than the allotted hour and a half," explains Tracey Johnson, Director of Student Success and Outreach Programs.
In addition to providing academic support and a much needed social connection, many virtual events are aimed at providing students with important information to continue their education.
For instance, Peer Mentor Ambassador Mayte Chinas held several informational sessions on how to register for summer school with the Ventura County Community College system. Chinas walked students through every step of the registration process, from creating an account to selecting the right courses. In follow up surveys, students who participated reported the sessions extremely helpful.
"Our peer mentors, through this pandemic, have been a human face and voice to students," says Hasendonckx. "Mentees who have responded to an email, picked up their phone, or met in a Zoom meeting, have overwhelmingly appreciated having a peer mentor to connect with. Our peer mentors have served as an important bridge for students, connecting them to the campus and its resources, all while being the humanized support we might have all lost through this virtual transition."