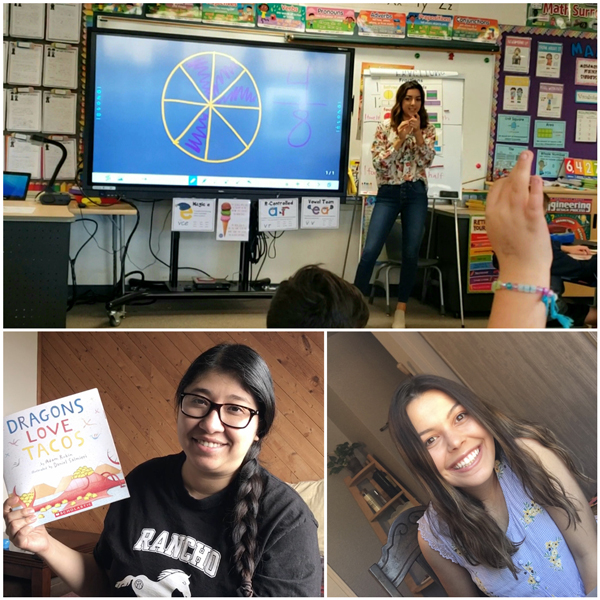 #WeAreStillHere
By Pamela Dean
Whether it's a story or instructions on how to complete an assignment, the sound of a teacher's voice reading to his or her class is normally part of a typical day in elementary school. But the Covid-19 pandemic has upended all sense of normal for our local school districts.
When the pandemic forced the Ventura Unified School District (VUSD) to move to remote and online instruction, VUSD teacher and CSUCI School of Education lecturer Melissa Miller scrambled to figure out how to get language arts curriculum up and running on Canvas, the district's online learning platform.
"Our language arts curriculum does not embed in Canvas," Miller explains. "Because of that, there was no way for students who are English language learners or below grade level to have the story read to them which is an accessibility issue."
Indeed, for students who are learning English and those who are lagging behind in their reading skills, having a teacher read instructions and stories aloud is crucial.
Miller reached out to the Teaching & Learning Innovation experts at CSUCI for advice, eventually connecting with Learning Designer Megan Eberhardt-Alstot who was eager to support the distance learning her own son, who is a fourth grader in VUSD, would also benefit from.
The biggest challenge was figuring out how to get audio and video recordings of the instructional materials, which could take hours for a single person to record, up and running as fast as possible.
This is when CSUCI School of Education credential students, whose student teaching placements were cut short because of the pandemic, stepped in to help VUSD make the recordings.
Within 10 minutes of sending out the request for help, Eberhardt-Alstot's inbox was flooded with volunteers.
"We often ran out of 'work' to dole out while responses were coming in," Eberhardt-Alstot said.
Students recorded approximately 70 readings, enough to get VUSD through the end of the school year.
The credential students found the chance to help the district and support student learning to be incredibly gratifying.
"I love reading to children and I missed being in the classroom, says Miranda Lopez, who received her BA in Early Childhood Studies in 2018 and hopes to complete her multiple subject teaching credential this May. "This allowed me to help students who may be having a hard time adjusting to distance learning."
Lopez recorded "Why The Sky is Far Away" and "The Wind and the Sun" for first graders.
"I volunteered because I know how important books and reading are for children," adds Liberal Studies alum Sydney Walker who is also working on her teaching credential. "I know many students don't have books at home or people to read to them. I wanted to be able to assist in any way I could to help students get the gift of reading during this difficult time."
Walker read "Our Turning Planets" and "North Wind and the Sun" for first graders.
Nicole Cappelletti, who hopes to complete her teaching credential in May, read "Predicting the Weather" and "The Princess and the Pea" for first and second graders.
"I miss student teaching so much and I wanted to connect with students," explains Cappelletti. "I know this is a very stressful time for teachers, parents and students so I wanted to help ease the transition. Virtual learning is very different than learning in the classroom so I believe it is important for students to still hear a real person read aloud to them. Hopefully our voices gave students comfort during an isolating time."
The credential students provided both video and audio recordings which worked on either a computer or mobile device. In all, 41 students and one faculty volunteered with 22 completing all of the recordings.
"Thanks to the CSUCI students who volunteered their time to read these stories, every student in VUSD was able to receive the literary support they needed by being able to read the story on their own, read along as the story was read to them, or having the story completely read to them. The personalized learning opportunities that these volunteers provided to our VUSD K-5 students made a significant impact in helping to both close the equity gap and support every student in their path to learning," Miller says.