Veteran's Resource Center Opens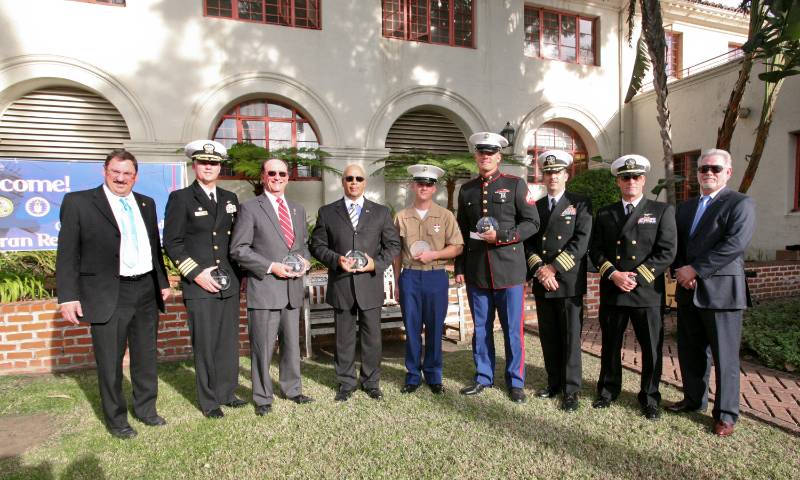 Left to right: Jay Derrico, Veterans Affairs Program Coordinator; Captain James McHugh, Naval Base Ventura County (NBVC) Commander; CI President Richard Rush; Wm. Gregory Sawyer, Vice President for Student Affairs; Mark Scott, Student Veterans Organization President; Jeremy Staat, Former NFL player, U.S. Marine Veteran and President of Jeremy Staat Foundation; Captain David Sasek, NBVC; LCDR Scott Strader, NBVC; and Ron Greenwood, Vietnam veteran and President of the Gold Coast Veterans Foundation.
Road Scholars Assisting with Commuter Student Needs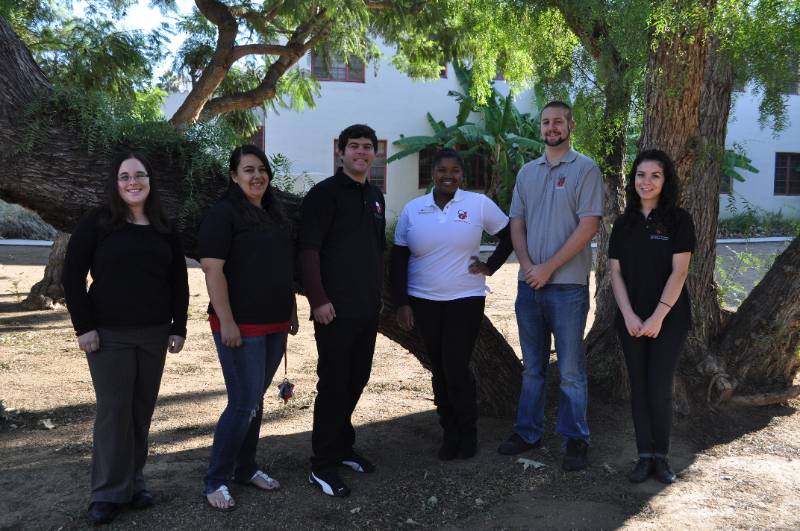 Road scholars, left to right: Allison Daly (CLU Graduate Intern at CI), CI Students: Rhonna Horney (sophomore), Michael Milligan (senior), Franchesca Brown (senior), David Seery (senior), and Elizabeth Lopez (sophomore).  Not shown: Krista Leung (senior) and Alysha Griggs (junior).
The Road Scholars program began this semester with only a few student leaders interested in making an impact on the campus by responding to the needs of CI commuter students. Beginning with just a simple event: Wheeling Wednesday's, the program is flourishing thanks to a group of dedicated students.  The purpose of the Road Scholars Program is to assess and respond to the diverse needs of commuting students. The Road Scholars Program aims to:
Facilitate a commuter network to engage students with one another.
Make available opportunities to assist commuting students in their personal development and educational journey at CI.
Act as an advocate for commuter students as a result of ongoing assessment strategies.
For additional information contact Kirsten Moss-Frye, Associate Director of Access, Orientation & Transition Programs at ext.3156 or kirsten.moss@csuci.edu.
Going Green

Operations, Planning & Construction (OP&C) is often asked the question: how 'green' are our operations? CI recently completed the STARS sustainability verification program instituted by the Association for the Advancement of Sustainability in Higher Education (AASHE). Overall, CI earned a "Silver" rating.  In the operations category,  CI ranks fourth among all institutions nationwide that participated in the STARS program. CI ranked higher than all but one institution with an overall "Gold" rating.
Two years ago, OP&C launched a Going Green campaign. Since then, electricity usage has been reduced by more than 24% (see the electricity usage pattern at CI Energy Usage Dashboard). Potable water usage has been reduced by 28% and approximately 97% of the campus is now irrigated with reclaimed water as well as using waterless urinals.  Drought tolerant California native plants are planted throughout and the campus uses Green-Seal certified cleaning products. The overall campus recycle rate is 50%. OP&C's target is to reduce further electricity usage by 15% by 2015. We are also launching a recycling awareness program to increase our recycle rate. New recycle bins for buildings and parking lots will be coming soon.
For additional information contact Dave Chakraborty, Associate Vice President for Operations, Planning & Construction at ext. 8461 or dave.chakraborty@csuci.edu.
© Wavelength November 10, 2011