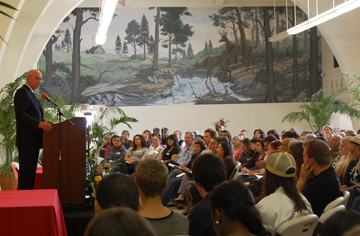 More than 400 campus and community members attended two presentations of the seventh-annual Campus Reading Celebration (CRC) featuring Dr. Gregory H. Williams, author of Life on the Color Line: The True Story of a White Boy Who Discovered He Was Black. 
Wavelength is published every other Thursday during the fall and spring semesters.
If you have information you would like shared with the campus community, please e-mail  wavelength@csuci.edu.
Items should be submitted by 5 p.m. Monday prior to the Thursday publication date. We encourage your participation, input and suggestions as we consider this your campus newsletter.  Please visit http://www.csuci.edu/wavelength/schedule.htm for a publication schedule and submission criteria.

© Wavelength October 13, 2011