Ask Me Campaign: Assisting students with a smooth transition- Aug. 27 & 28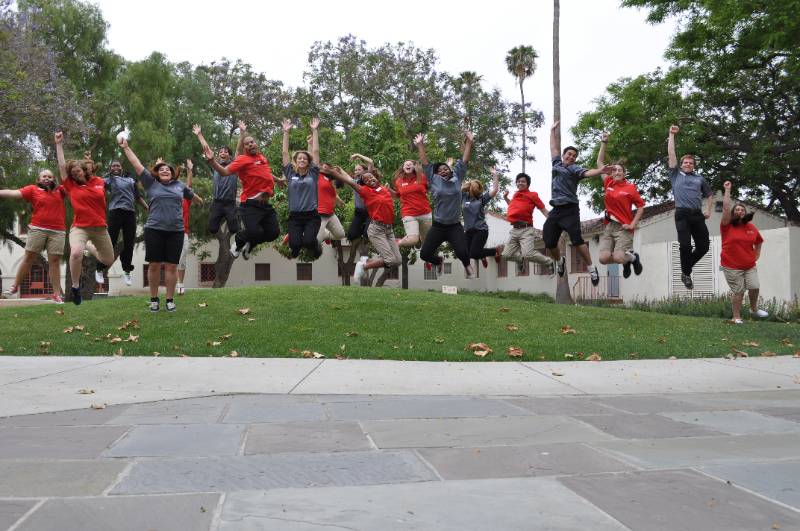 Each fall semester, new students embark on their first day of University life as freshmen or transfer students, roaming CI with little recollection or knowledge of the campus. The Ask Me Campaign is designed to ensure a smooth opening of the school year for students by providing a concierge-type booth staffed by campus volunteers during the first couple days of the fall semester to respond to informational and directional inquiries. Just as our dedicated Orientation Leaders led the way for freshmen during Island View Orientation, they will once again take the lead to assist freshmen as they arrive this fall by volunteering their time at the Ask Me Campaign booths. Booths will be open Monday, Aug. 27 and Tuesday, Aug. 28 from 8 a.m. to 5 p.m. at the South Quad entrance to the Bell Tower and at Aliso Plaza.  Each year, Ask Me volunteers address about 1,000 inquiries and while we receive many simple questions that have simple answers, we make a big difference.
For more information, please contact Kirsten Moss-Frye, associate director for Access, Orientation and Transition Programs at 805-437-3156, or email New Student, Orientation and Transition Programs at orientation@csuci.edu.
Graduate and Undergraduate Degree Information Sessions – Aug. 29, Sept 4, 6 & 13
Extended University is committed to higher and continuing education and offers both graduate and undergraduate degree programs.  Information Sessions for our programs are upcoming:
Information sessions for our MBA program at the Thousand Oaks campus will be Sept. 4 from 6-7 p.m. (in Thousand Oaks) and Sept. 13 from 12-1 p.m. (in Camarillo). The following will be held in Camarillo only: MS Biotechnology, Sept. 13, 1-2 p.m.; MS Mathematics, Sept. 6, 12-1 p.m.; MS Computer Science, Sept. 6, 1-2 p.m.  Information Sessions in Camarillo are located at the Graduate Studies Center on the CSU Channel Islands campus.
Information sessions for our Santa Barbara programs will be held at our Goleta Campus at 5383 Hollister Ave, Ste 220, Goleta CA 93111 on Aug. 29.  Info Sessions for BS Business from 5-6 p.m., BS/Business-to-MBA from 5-7 p.m., MBA from 6-7 p.m., BA Psychology from 7:30-8:30 p.m. and the BA Early Childhood Studies from 7:30-8:30 p.m..
Information session registration: https://csuci.wufoo.com/forms/undergraduate-degree-information-sessions/.
For additional information about the Camarillo programs, please contact Alison Potter at 805-777-1042 or alison.potter@csuci.edu.  For additional information about the Santa Barbara programs, please contact Melissa Whitacre at 805-312-6367 or melissa.whitacre@csuci.edu.
Del Norte and Madera Halls Dedication Ceremony - Sept. 14
Join us for the dedication of Del Norte and Madera Halls on Friday, Sept. 14. The reception will begin at 9 a.m. and the dedication ceremony will begin at 9:30 a.m.  Following the ceremony, mini-lectures and tours will be offered in the new buildings.
View a PDF version of the invitation (PDF, 1.72MB)
For additional information or to reply, contact Dianne Wei at ext. 8420 ordianne.wei@csuci.edu



CI Foundation and Rabobank present The President's Dinner- Oct. 6
Join us as we celebrate the University's 10th Anniversary at this year's President's Dinner, the University's premier annual fundraising event. The event will take place on Oct. 6 at the Four Seasons Hotel Westlake Village and will include a VIP reception, special performance by country artist Rachel Holder, fabulous silent auction, raffle and much more. Proceeds will support the University's highest priority needs.
The evening will feature the presentation of the Robert J. Lagomarsino award to Mike Curb, a former lieutenant governor and acting governor of California and one of the most prominent figures in the entertainment world. He presides over his own independent record label, Curb Records, and has received a star on the historic Hollywood Walk of Fame.
CI Faculty and staff receive a discounted ticket of $150 per person (regular cost is $250 for a general ticket). Each faculty or staff member is eligible to purchase two tickets at this special rate and payroll deduction can be utilized to make this purchase even easier. VIP tickets are also available at $400 per person and you receive added benefits, such as attending the VIP reception and the opportunity to meet country artist Rachel Holder.  A flyer will be sent out via email with more information.
For additional information contact Noheli Viramontes at ext. 3552 or noheli.viramontes@csuci.edu. For information on the gala, visit www.csuci.edu and click on the President's Dinner button.
© Wavelength August 23, 2012