Meet CI's AmeriCorps member, Kaitlyn Cotton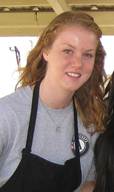 With a motivation to assist others and a strong spirit, Kaitlyn Cotton has
enthusiastically served her school and community as an AmeriCorps
volunteer since October 2010. As an AmeriCorps member, Kaitlyn dedicates 300 hours of service to the California Conservation Corps mentoring young adults, ages 18-25, in their future goals and objectives. Through discussion and attentive compassion, she guides these individuals to a successful career path.
Kaitlyn anticipates graduating in spring 2012 with a B.A. in Psychology. However, she is contemplating furthering her business administration minor and expanding it into a B.S. in Business Management. With these dual degrees, she will pursue a career path involving social business aspects and community involvement. With her demanding academic schedule and position as a student assistant in the Admissions department, Kaitlyn spends the remainder of her time discussing politics, business and psychology.  Passionate about using her life to positively impact others, Kaitlyn continues to strive for constant self-improvement through leadership development and interpersonal reflection.  Strongly supported by family and friends, she is confident in her ability to make a difference.
For more information, contact Pilar Pacheco, Associate Director for the Center for Community Engagement, at ext. 8851 or pilar.pacheco@csuci.edu.
© Wavelength January 26, 2012