Performing Arts Presents: Cabaret - Mar. 29-Apr. 7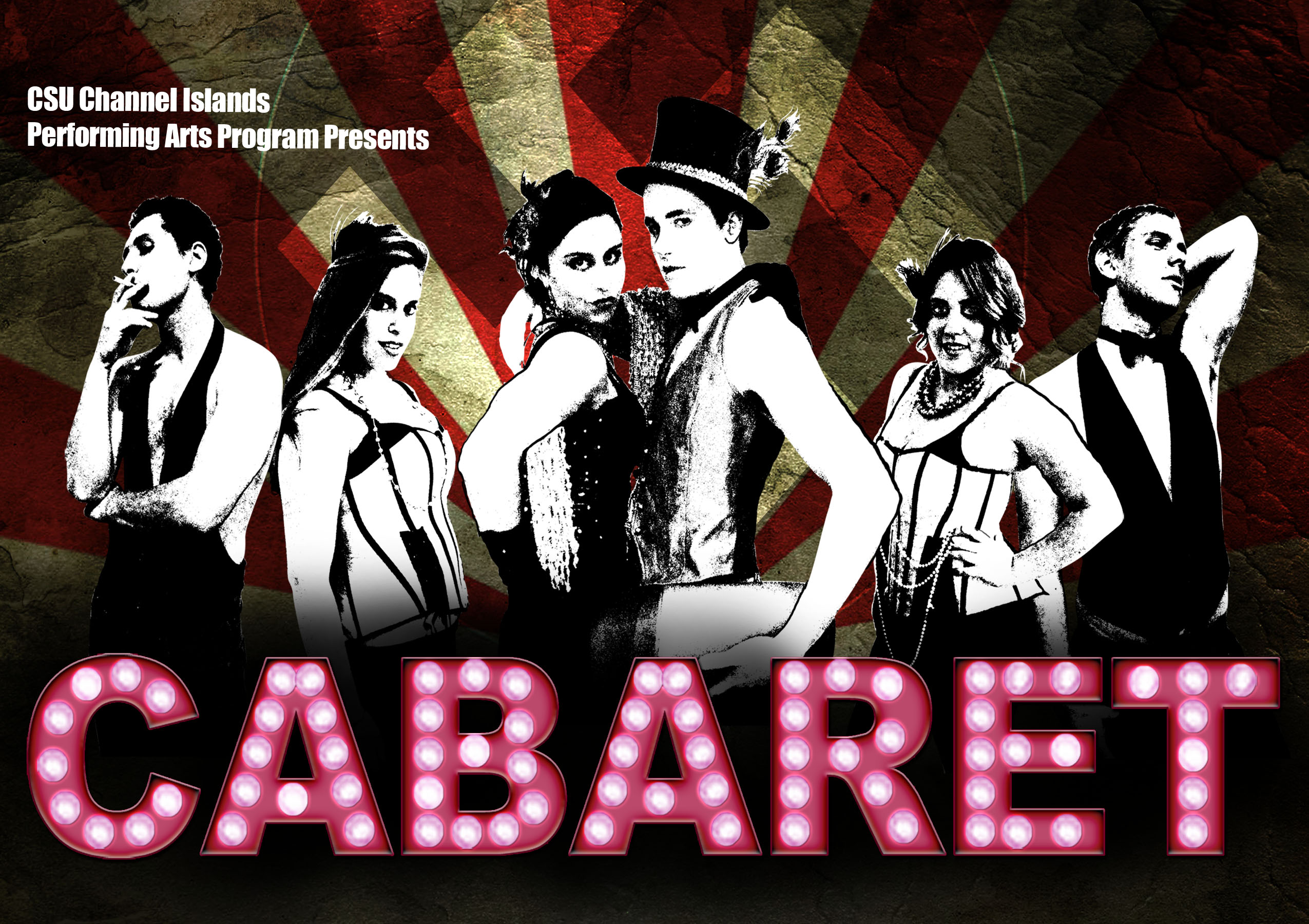 Cabaret follows the stories of a compelling cast of characters at the Kit Kat Klub, a scene of uninhibited, decadent celebration set against the backdrop of growing Nazi terror in 1930s Berlin. Performances will be at Malibu Hall, Mar. 29 – 31and Apr. 5 – 7 at 8:00 p.m.; Apr. 1 & 7 at 2:00 p.m.
Tickets are free for CI students, $5 for other students, $10 for CI faculty & staff, and $15 for the general public.
CI's production of the musical is directed by Catherine Scott Burriss and choreographed by Heather Castillo, with musical direction by KuanFen Liu and Ted Lucas, scenic design by Rachel Myers, costume design by Regina Rogers, dramaturgy by Bob Mayberry and performances by the students of Performing Arts 391.
Please note: Cabaret features adult situations. Audience discretion is advised. This presentation is made possible with funding from Instructionally-Related Activities
For additional information contact Catherine Burriss, Assistant Professor of Performing Arts, CSU Channel Islands at ext. 3126 or catherine.burriss@csuci.edu.
Blood Drive - Apr. 2nd
The National Cesar Chavez Blood Drive Challenge invites the CI community to save a life by donating blood. The community service event honors the legacy of farm labor rights leader Cesar Chavez and serves as a tribute to his commitment to social justice and respect for human dignity. A United Blood Services van will be located in the South Quad on Monday, Apr. 2, 11:30 a.m. – 4 p.m.
The annual competition is sponsored by the Center for Community Engagement and MigrantStudents.org, an online migrant education community powered by the CAMP Alumni Association.
For more information please contact Pilar Pacheco, Associate Director, Center for Community Engagement at ext. 8851 or pilar.pacheco@csuci.edu.
Weeklong celebration of World Autism Day begins with lighting of Bell Tower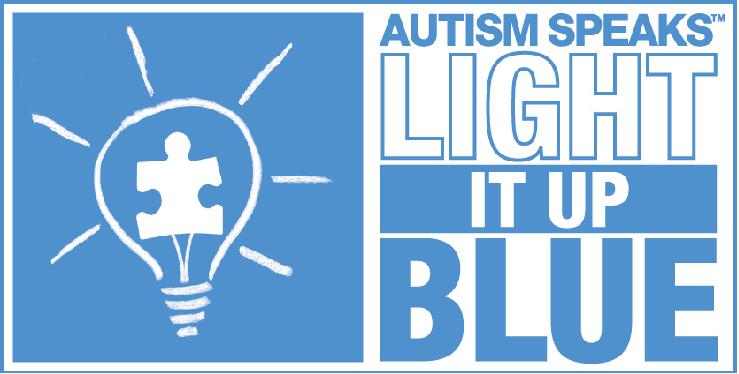 CI will light up the Bell Tower in a shade of blue to support World Autism Awareness Day, and celebrate Light It up Blue during the week of Apr. 2-6.
Light It up Blue  is a unique global initiative by Autism Speaks designed to help raise awareness about the growing public health concern that is autism. Iconic landmarks around the world will Light It up Blue to show their support on World Autism Awareness Day. Student speakers, administrators and a special countdown will begin at 6:30 p.m. on Monday, Apr. 2 in front of the Bell Tower. In addition, student initiatives will occur throughout campus and various blue lights will be displayed in offices and common areas.
CI is hosting an information fair that is open to the public to involve the Ventura County Autism Society, regional service providers, and CI's Disability Accommodations and Support Services.
For more information, contact Damien Pena, Associate Vice President for Student Affairs/Dean of Students, at ext. 8512 or damien.pena@csuci.edu.
"SAFE" on Campus Workshop -  Apr. 4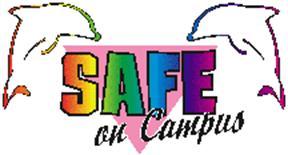 Not yet earned your SAFE door sign? Need a refresher course?
Sign up now for the SAFE workshop, slated for Wednesday, Apr. 4, 9 a.m. to 12 noon, which will offer participants a chance to become familiar with some of the pressing issues for lesbian, gay, bisexual, and transgender people on campus. Participants will practice dealing with specific situations like hate speech and workshop ideas for making this a more welcoming campus for all.
For additional information and to RSVP contact Tacey Burnham at ext. 2608 or  tacey.burnham@csuci.edu.
Show your CI Pride during Dolphin Days – Apr. 9-15
Sponsored by Associated Students Inc. and Student Life, the Dolphin Days program brings together a series of week-long events that demonstrate the CI community's dedication to enhancing the quality of life for CI students by promoting academic success, personal development and CI Pride. Dolphin Days is designed to increase student pride for themselves and their University and to support the University and Student Affairs missions.
Students: get a FREE t-shirt to show CI spirit! Attend the Dolphin Days Opening Ceremony event on Monday, Apr. 9 at 12:00 p.m. in the Student Union. Enjoy food, music and fun as you hear about the various programs at CI that work to support the University Mission. Don't forget to pick up your free CI Pride gear at the event!
Students may also pick up a free Dolphin Days t-shirt at the following Student Life centers on Monday, April 9 (while supplies last): SPB (2nd floor of the Student Union); Recreation Center (Arroyo Hall); SEAL Center (2nd floor of the Student Union); EOP Center (Bell Tower 1538); Educational Access Center (Bell Tower 1541); Career Development Center (Bell Tower 1548); Health Center (Yuba Hall); Student Support Services Center (Bell Tower room 1805); Veterans Center (Bell Tower room 1518); and MWSGC (Bell Tower room 1512).
Click here for a complete listing of events.
For more information, contact Kirsten Moss-Frye, Associate Director, Access, Orientation & Transition Programs at ext. 3156 or kirsten.moss@csuci.edu.
10th Annual Career & Internship Week - Apr. 10-12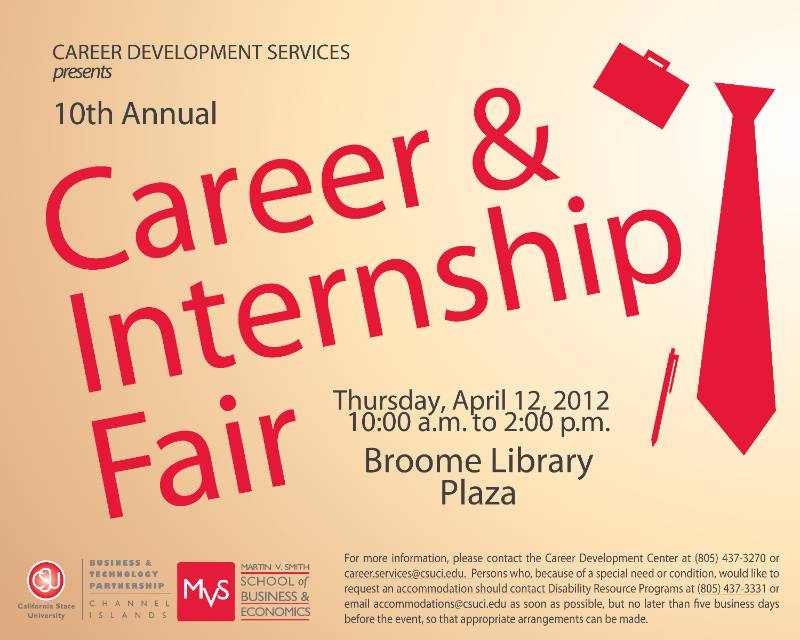 Career Development Services (CDS) is pleased to announce our 10th Annual Career & Internship Week 2012.  CDS is committed to assisting students to obtain a professional internship or part-time/full-time employment position. To prepare, CI students should mark their calendars to take advantage of the following workshop opportunities:
Tuesday, April 10
Dress for Success Fashion Show: Learn how to make a first impression through professional dress and communicate to employers that you are the right person for the job.
11 a.m. - 12:30 p.m., Student Union Building Stage Area
Sponsored by: Camarillo Premium Outlets
Resume Clinic: Do you want to impress an employer with a winning resume? This hands-on clinic is designed to give you a unique opportunity to have your questions answered by employers and the Career Development Services staff.
2 - 4 p.m., Broome Library Plaza
Wednesday, April 11
Employer Panel:  Discuss interviewing techniques and strategies with executive level human resources and management professionals from local businesses and organizations.
11:45 a.m. - 1 p.m., Student Union Building Stage Area
How to Prepare for the Career & Internship Fair Workshop:  Learn last minute tips on how to effectively prepare for the fair.
3 - 4 p.m., Career Development Center, Bell Tower 1548
Thursday, April 12, 2012
10th Annual Career & Internship Fair: Network with local organizations recruiting to fill internships and part-time/full-time employment position openings. Come prepared for a potential interview with future employers.
10 - 2 p.m., Broome Library Plaza
All events are sponsored by the Martin V. Smith School of Business & Economics along with the Business & Technology Partnership.
If you would like additional information about this event or other career related events, please contact Amanda Carpenter, Coordinator for Career Development Services, at ext. 3565 or amanda.carpenter@csuci.edu.
Free R.A.D. Self Defense Training for Women, Students, Faculty and Staff -  Apr. 18 - 20, and 23
Could you effectively defend yourself if attacked? Learn how from trained CI Police Department personnel at this 12-hour class (4 days, 3 hours each day from 6:30 – 9:30 p.m.) for women students, faculty and staff – free of charge. Participants must attend all 4 sessions to complete the program.
Spaces are filling quickly for this semester's class! Class size is limited; register now at Police & Parking Services Customer Service located in Placer Hall between 8 - 3 p.m. weekdays.  A $20 deposit will be collected at the time of registration and will be fully refunded upon completion of the course.  A wait list will be established for the next class offered in the fall.
The Rape Aggression Defense System is a program of realistic, self-defense tactics and techniques.  This comprehensive course for women begins with awareness, prevention, risk reduction and avoidance, and progresses to the basics of hands-on defense training.
For information, please contact Officer Dan Russ at ext. 8444 or dan.russ@csuci.edu.
B & TP Leadership Dinner – Apr. 19
The Business & Technology Partnership is hosting the eighth-annual Leadership Dinner on Thursday, April 19 at the Embassy Suites Mandalay Beach Resort. This special event is an annual fundraiser that benefits student scholarships and recognizes outstanding business and technology community members, faculty and exceptional CI students.
The evening will honor the following:
Ronald C. Werft - President  & CEO, Cottage Health Systems
B&TP Business & Community Leader of the Year
Casey Houweling - Proprietor, Houweling Tomatoes
B&TP Technologist of the Year
Blake Gillespie - CI Associate Professor, Chemistry
B&TP Faculty Leader of the Year
Five student scholarships will be awarded - names of recipients to be announced soon.
Faculty and staff receive a discounted ticket of $75 per person (regular cost is $150). Each faculty or staff member is eligible to purchase two tickets at this special rate and payroll deduction can be utilized to make this purchase even easier. Please fill out the form and submit in person as instructed.
For more information contact Alissa Larreta, Advancement Events Specialist at ext. 8916 or alissa.larreta@csuci.edu.
Poe Symposium "Agriculture in the Golden State" – Apr. 20
The Biology Program will present the 8th Poe Symposium on "Agriculture in the Golden State: Challenges in Feeding California in the 21st Century." The symposium will address how growers in California are continually being challenged by the introduction of new insect pests, drug resistant pathogens, and environmental concerns at the urban-agricultural interface. The symposium will take place Friday, Apr. 20 from 12:30 to 5:30 p.m., in the Aliso Hall Auditorium and is free and open to the public.
There are several scheduled speakers addressing a variety of subjects, including Dr. Ben Faber, Dr. Oleg Daugovish, and Dr. Michael Cahn from the University of California Cooperative Extension; Mr. Brett Chandler, President and General Manager of Associates Insectary and Dr. Gordon Wardell, Senior Bee Biologist for Paramount Farming Company.
Pre-registration is recommended. To register, visit http://biology.csuci.edu/poe/poe8agriculture.
For more information about the event contact Dr. Ruben Alarcón, Assistant Professor of Biology, at ext. 2634 or ruben.alarcon@csuci.edu.
Film Screening: "God Sleeps in Rwanda" - Apr. 23
The Centers for Multicultural and Community Engagement, in collaboration with Audrey Stein, will be screening the Academy Award-nominated film, God Sleeps in Rwanda, on Monday, Apr. 23 from 12 -1:30 p.m., Broome Library, Room 1360.
Uncovering amazing stories of hope in the aftermath of the Rwandan genocide, this film captures the spirit of five courageous women as they rebuild their lives, redefine women's roles in Rwandan society and bring hope to a wounded nation. There will be a question and answer session with the film's director immediately following the screening.
For more information, contact Pilar Pacheco, Associate Director, Center for Community Engagement at ext. 8851 or pilar.pacheco@csuci.edu
Celebration of Service – Apr. 27
Provost Dawn Neuman and the Center for Community Engagement invite you to a Celebration of Service on Friday, Apr. 27 from 9 - 11:30 a.m. in the Broome Library, Room 1320.
The event is two-fold: to honor the work of our faculty, students and community partners and to provide space for local community organizations, University faculty, staff, and students, to interact and develop innovative educational partnerships. While enjoying a complimentary hot breakfast, participants will hear about current collaborative projects, the commitment of the University to strengthen such efforts, and engage in networking to facilitate beneficial campus-community alliances. This event is by reservation only.
For more information, contact Pilar Pacheco, Associate Director, Center for Community Engagement at ext. 8851 or pilar.pacheco@csuci.edu if you will be attending. Limited space is available.
© Wavelength March 29, 2012