cin Éngage presents "Bully" - Apr. 11
The Centers for Community and Multicultural Engagement present, cinÉngage, and its final documentary screening, Bully on Thursday, Apr. 11, from 6-8 p.m. in Malibu Hall 100.
From Sundance Award-winning filmmaker, Lee Hirsch, comes a beautifully cinematic, character-driven documentary following five children and families over the course of a school year. Offering insight into different facets of America's bullying crisis, the stories include two families who have lost children to suicide and a mother awaiting the fate of her 14-year old daughter, who has been incarcerated after bringing a gun on her school bus. With an intimate and often shocking glimpse into homes, classrooms, cafeterias and principal's offices, this is a powerful and inspiring film that every educator, parent, teen and young adult should see. A panel discussion will follow.
For more information contact Pilar Pacheco, Associate Director, Center for Community Engagement, at ext. 8551 or pilar.pacheco@csuci.edu.
Global Economy & Investment Options- Apr. 12 & 19
The Institute for Global Economic Research will host the presentation "Global Economy & Investment Options" on Friday, Apr. 12 at Santa Barbara City College and Friday, Apr. 19 at CI. This presentation will focus on the outlook for the U.S., Europe, and China, and the implication it has on business in the South Coast Region. For details on each date and location, see below:
Friday, Apr. 12, 7:30 – 9:30 a.m.; Santa Barbara City College - Garvin Theatre. This event is free and continental breakfast will be served. Parking is available in lots 4A-4D on the West Campus. Permits are not required. Please register here.
Friday, Apr. 19, 12-2 p.m.; CI Campus - Malibu Hall 100. This event is free and lunch will be served. Parking is complementary; once on campus, follow event signage to designated parking lot. Please register here by Monday, Apr. 15.
For more information contact Noheli Viramontes, Advancement Events Assistant, at ext. 3552 or Noheli.viramontes@csuci.edu.
Children's Reading Celebration & Young Author's Fair- Apr. 13
The John Spoor Broome Library will host the 8th annual Children's Reading Celebration and 36th annual Young Author's Fair on Saturday, Apr. 13 from 10 a.m. – 1 p.m. in the Broome Library. This exciting event at the CI campus promotes early childhood literacy with a variety of fun crafts and activities. Everyone will get to meet a special featured author, and each family will receive a free signed book. This year's author is Tina Nichols Coury, author of the children's book, Hanging off Jefferson's Nose: Growing Up On Mount Rushmore. Children will also have the opportunity to read dozens of books written and illustrated for the Young Author's Fair by K-12 students in Ventura County. Admission and parking for this community event are free.
New This Year! Professional Development Workshop for Teachers!
A free, professional development opportunity will be offered by the Ventura County Reading Association and the Broome Library. Two workshops are offered: "Book Making in the Content Area" and "ABC Books as Performance Tasks."
For more information and/or to RSVP to the Celebration or the Professional Development portion.
For more information contact Janet Pinkley, Reference and Circulation Coordinator at ext. 3217 or janet.pinkley@csuci.edu.
Student Success Workshops- Apr. 17 and 24-25
All students are welcome to attend the Student Success Workshops hosted by the Advising Center. RSVP is not required.
How to Choose a Major: No major? No problem! Find out which major could be right for you.
Date: Wednesday, April 17
Time: 5-6 p.m;
Location: Bell Tower 1568
Stress Management: Overwhelmed? Come to develop skills on how to stay calm and productive.
Look for sessions in May - Just in time for Finals!!
Test Taking Strategies: Exams have you in a sweat? Discuss tactics and strategies to combat test anxiety and "guess smart."
Date: Wednesday, April 24 and Thursday, April 25
Time: 3-4 p.m.                               11a.m-12 p.m.
Location: Bell Tower 1568 Bell Tower 1568
For more information contact Beth Williams, Advising Center Support Coordinator, at ext. 8971 or Julia.williams@csuci.edu.
B & TP Leadership Dinner- Apr. 18
The Business & Technology Partnership is hosting the eighth-annual Leadership Dinner on Apr. 18 at 6 p.m. at the Crowne Plaza Ventura Beach. This special event is an annual fundraiser that benefits student scholarships at CI and recognizes outstanding business and technology community members, faculty and exceptional CI students.
The evening will honor the following:
Ann Deal, Founder & CEO, Fashion Forma
B&TP Business & Community Leader of the Year
Steven Gill, Partner, Gills Onions
B&TP Technologist of the Year
Dr. Cynthia Wyles, CI Professor of Mathematics
B&TP Faculty Leader of the Year
Five student scholarships will be awarded to the following students: Christy Diggins-Richey, Jenna Fordis, Charles Hillman, Ashley Tegley, and Eric Varela.
Faculty and staff receive a discounted ticket of $75 per person (regular cost is $150). Each faculty or staff member is eligible to purchase two tickets at this special rate. This is a great opportunity to support the students of CI.
For more information contact Carrick DeHart, Director for Major Gifts at ext. 8919 or carrick.dehart@csuci.edu.
Biotechnology Spring Mixer - Apr. 18
Extended University at CI is excited to announce their annual Spring Mixer, to be held on Thursday, Apr. 18 at 5:30 p.m. on the main campus. The evening will include dinner and networking and speaker panels made up of CI faculty and alumni from the MS Biotechnology programs. The agenda is noted below:
5:30: Dinner and Networking
5:45: Welcome: Amy Denton, PhD, Chair, Biology Program and Director of the MS in Biotechnology and Bioinformatics Program
6:00: Greg Cauchon, PhD, Current Industry Outlook
6:10: Speaker Panel: Biotech Jobs at the Bench and Beyond
Moderator: Melissa McCoy, MS, MBA  
Professionals in the fields of Biotechnology and Biomedical Engineering will discuss career development and the variety of different career paths available to students
6:45: Speaker Panel: Graduate Student Perspectives
Moderator: Kristin Majda, MS, MBA
Current and former MS Biotechnology students will talk about their graduate school experience and how they have used or plan on using their degree
7:30: Networking until 8:30
RSVP for the event, click here.  A full flyer is available here. (PDF, 824KB)
For more information, contact Melissa McCoy, Instructional Support Technician II, at ext. 3533 or Melissa.mccoy698@csuci.edu.
Visual Meditation / Abstract Calligraphy- Apr. 18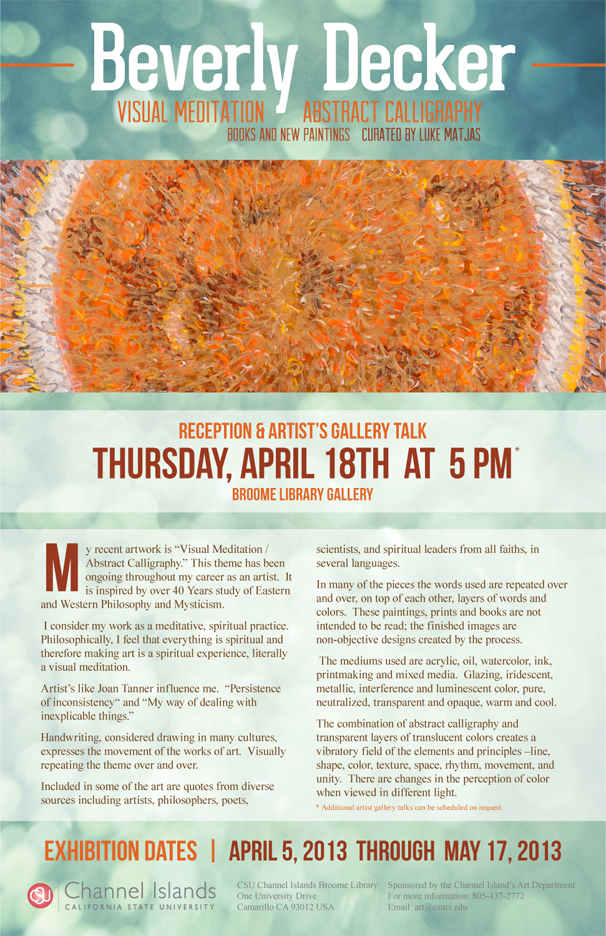 The CI Art Department will present Visual Meditation/Abstract Calligraphy by Beverly Decker at a Reception & Artist's Gallery Talk on Thursday, Apr. 18, from 5-8 p.m. in the Broome Library Gallery. Curator Luke Matjas will oversee the exhibition which runs Apr. 5-May 17.
Professor Decker's recent artwork presents a theme that has been ongoing in her career as an artist: it is inspired by over 40 years studying Eastern and Western Philosophy and Mysticism. Decker considers her work as a meditative, spiritual practice.
Handwriting, considered drawing in many cultures, expresses the movement of the works of art. Included in some of the art are quotes from diverse sources including artists, philosophers, poets, scientists, and spiritual leaders from all faiths, in several languages. These paintings, prints and books are not intended to be read; the finished images are non-objective designs created by the process.
The mediums used are acrylic, oil, watercolor, ink, printmaking and mixed media. The combination of abstract calligraphy and transparent layers of translucent colors creates a vibratory field of the elements and principles –line, shape, color, texture, space, rhythm, movement, and unity. There are changes in the perception of color when viewed in different light.
For more information, contact Hilda Ocampo, Academic Program Analyst, at ext. 2772 or hilda.ocampo@csuci.edu.
Celebration of Service - May 3
The Center for Community Engagement cordially invites you to the 2013 Celebration of Service on Friday, May 3, from 11-2 p.m. in the Petit Salon, to honor faculty, community partners' and students' community engagement efforts.
This year, in addition to the awards luncheon and networking with community partners, the event will feature a poster session (11 a.m.-12 p.m.), highlighting several service learning projects/research. The Celebration of Service brings the community together to acknowledge the growth and impact these projects/research contribute to our students and the community. 
We look forward to seeing you at this year's Celebration!
For more information contact Pilar Pacheco, Associate Director, Center for Community Engagement at ext. 8851 or pilar.pacheco@csuci.edu.
Community Safety Day - May 4
On Saturday, May 4, the CI Police Department and University Auxiliary Services, Inc. will host the 9th Annual Safety Day at University Glen Park. This annual event runs from 10 a.m. – 2 p.m. and features information on fire prevention, emergency preparedness, safety demonstrations, equipment displays, a K-9 demonstration, and the sheriff's helicopter. Lunch is provided by University Glen Food Services. To view full details, including a list of community partners, click here. (PDF, 248KB)
For more information, contact Rachel Huff, Crime Prevention & Community Coordinator, at ext. 8444 or Rachel.huff@csuci.edu.
Click here to return to the Table of Contents
© Wavelength April 11, 2013